Ahmad Sadri's mixed media performance reviewed by LA Times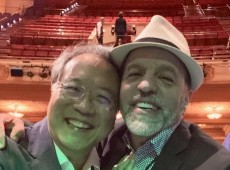 Gorter Professor of Islamic World Studies and Professor of Sociology Ahmad Sadri's "Heroes Take Their Stands," performed by Silkroad Ensemble—a Grammy Award musical group—was reviewed recently in the Los Angeles Times.
Silkroad Ensemble has created a full musical production where five composers and as many animators, dancers, video artists, and filmmakers accompany the audience in contemplating the essence of heroes and heroines from Greece (Electra), Persia (Siavosh), India (Arjuna), China (Dou'E) and America (Martin Luther King Jr.)
"It is not about superheroes, conqeurors, or authors of great deeds," Sadri said. "It's about the moment in life where the road narrows to final point, forcing us to make a choice and take a stand. Heroes of all cultures transform this supreme act of courage into a gesture for future generations. The sublime act of the heroic gestures cannot be captured in words. To partake of it we need to fly on wings of music. To appreciate the grandeur of the heroic stand we ought not pick it apart by tongs of logic but rather marinate in its wordless mystery."
The protagonists in "Heroes Take Their Stands" were not born heroes, Sadri continued. They are normal individuals who choose to act or react in ways that spare others' lives or right profound injustices—and their acts offer enduring inspiration for us all.
Review: Silkroad Ensemble brings Elektra and MLK under the same multicultural music tent
By Mark Swed | Los Angeles Times
The primary driving forces of multiculturalism tend to be physical, those that don't require language. Food probably comes first, with music not far behind.
So when Yo-Yo Ma proposed the idea of the Silkroad Ensemble two decades ago and the metaphor was the common cause of commerce—the ancient trade route between East and West—the real commonality was musical culture. Musicians are a sharing species, and the great dean of California multi-culti composers, Lou Harrison, always insisted that music history is ultimately the study of hybridization.
Naturally, the Silkroad Ensemble worked musically—and, for that matter commercially, with many best-selling and award-winning and culture-changing recordings. But at its 20th anniversary, the ensemble is at a crossroads. Musically, at least, the Silkroad has become mainstream. It works almost too well.
With the new program "Heroes Take Their Stands," which had its premiere Friday night at the Granada Theatre (one of the commissioners being the UC Santa Barbara Arts & Lectures series), cultural diversity seems less notable than ever. What creates wonder in Silkroad now is a kind of virtuosic assimilation. The ensemble has become as much its own hybrid entity as, say, a pluot.
That is not to imply a lack of decisive cultural identity to the five multimedia works created for the program, which Silkroad is taking on tour. It stopped at the Soraya in Northridge on Saturday and will come to Segerstrom Hall on Tuesday night. But what distinguishes each work is the natural way of using instruments and musical techniques from one culture to express something about another one.
The idea behind the program was the notion of heroism as selfless action toward a social good. That made it an intriguing look at the philosophical notion of authenticity, the many motivations philosophers and religious figures have proposed for selflessness. In so doing, "Heroes" stands for a musical practice profoundly outside our own political, economic and social media celebrations of self-interest. ("Heroes" reaches the Kennedy Center in Washington, D.C., on May 5.)
For Silkroad, a hero is a hero, which means historic, literary or mythic figures included. Heroism need not require narrative. Cultural viewpoints are neither explained nor propounded onstage (there are program notes for that), but rather made effectively accessible simply by being acted upon.
The evening began with Peruvian composer Pauchi Sasaki (she of the loudspeaker dresses bewitchingly employed at a Los Angeles Philharmonic Green Umbrella concert last year) electrifying dueling taiko drums in "Elektra," with visual artist Nomi Sasaki's Chinese black-ink animated lightning bolts projected on a screen behind the musicians. After several interactions between unalike but not incompatible instruments (possibly representing dual aspects of Elektra's inner conflict over whether justice requires parenticide), the evening ended with the screen turning to snowy peaks dwarfed by indecipherable looming (Greek?) statuary.
Japanese percussionist and shinobue flutist Kaoru Watanabe joined pipa star Wu Man for "June Snow," here combining aspects of kabuki theater with Chinese opera.
The subject came from a Yuan dynasty classic about a child bride, Dou E, who was framed for murder and who at her execution took supernatural revenge over injustice by producing snow in June. During the excited interactions between the two musicians, the backdrop on the rear screen was a snowstorm of calligraphy.
In "Arjuna's Revelation," with music by Silkroad violinist Colin Jacobsen, Sandeep Das' assertive tabla playing animated the Indian dancer Aparna Ramaswamy. Her provocatively expressive dance was meant to be redolent of the warrior king Arjuna's awakening to duty in the sacred text of the Bhagavad Gita, with the tabla standing for the animating god Krishna. (That was my take, anyway, with nothing much to go on.) Meanwhile the fuller ensemble added a warm grandeur to the dance.
Jason Moran's "Moderato 400" suggested a certain musical contradiction in invoking the famous 1955 warning by the Rev. Martin Luther King Jr. at Holt Street Baptist Church in Montgomery, Ala., of the danger of white moderates miscalculating the horrors of racism. The jazz pianist's gripping and inspirational score is built around a rhythmically arresting call and response between the pipa and taiko drum that leads, somewhat incongruously, to what seems a spiritually moderating climax for an ensemble of strings. No matter, it's a great piece, with some blurred historic video imagery by Lucy Raven in the background.
The last of the heroes is Siavosh from Ferdowsi's Persian epic, "Book of Kings." The victorious warrior sacrifices himself with the refusal to kill prisoners of war. In "The Prince of Sorrow" for the full ensemble and pre-recorded electronics, Iranian kamancheh star Kayhan Kalhor, one of Silkroad's best known members, underscored a vividly drawn and colored animation by Hamid Rahmanian.
This came closest to narrative. But at the same time, it didn't get close enough for those of us who hadn't read the ancient epic to follow, thus creating more mystery, not less. Kalhor, who understands Silkroad as well as anyone (Ma no longer regularly plays with the ensemble but was in the audience), made the ensemble sound utterly, aurally logical.
Musical mission accomplished. Now the next job for Silkroad, which is also at an administrative crossroads, may be to get the world to listen, to really listen, to what a productive cultural crossroads sounds like.
Where: Segerstrom Hall, 600 Town Center Drive, Costa Mesa
Info: (949) 553-2422 or philharmonic society.org