2022 Richter Scholars devote summer to high-level research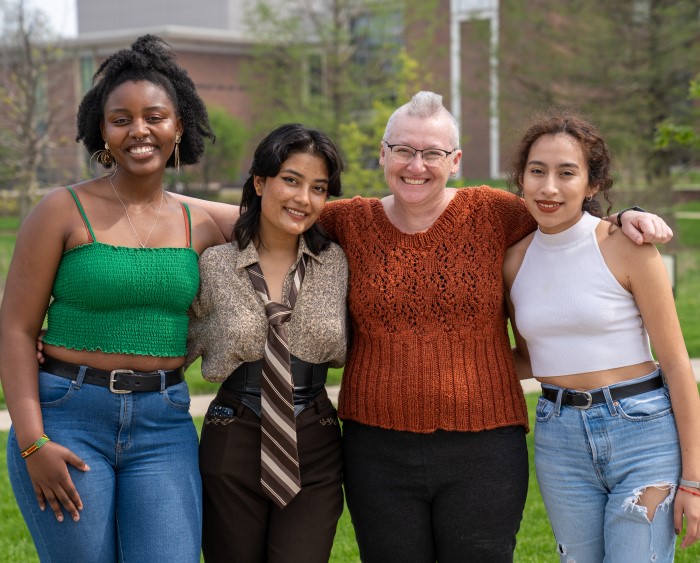 This summer, 47 students in the Richter Scholar Program are conducting research with faculty mentors, developing valuable relationships and a deeper understanding of research.
Unique to Lake Forest College, the Richter Scholar Program is an opportunity for qualifying first-year students to research alongside professors throughout the summer. The partnership between faculty and students creates strong bonds for all those involved in the program.
Projects span across disciplines, inviting students from various departments and areas of interest to participate in valuable research oppportunities. This year, research opportunities include "Racial Integration of the US Military and the Origins of the Cold War," "The Cellular Consequence of Exceptionally Short Telomeres," "Buddhist Spaces in Chicagoland," and more.
The Richter Scholar Program prepares students for high-level graduate research and careers beyond the College. Alumnus Paul Jones '18 is currently pursuing a PhD in molecular cell biology at Washington University in St. Louis. A 2014 Richter Scholar, he credits the program with his current successful career trajectory: "I would not be in the same spot I am now without the deep level of research experience I got through the Richter Scholars Program."
The ultimate goal of the Richter program is to foster a strong commitment to intellectual life and to encourage participating students to consider careers in research and teaching. Academically excellent students with an interest in research are invited to apply for the program in the early spring of their first year. Richter Scholars live and work together and participate in a weekly colloquium, becoming a community of peers who provide encouragement and support for one another's research endeavors. The result is a group of scholars motivated to continue their intellectual achievement in the future.
This year's sessions run from Tuesday, May 10 through Friday, June 3 with the concluding symposium held on Thursday, June 2 (Option I) and Monday, May 16 through Friday, July 8 with the concluding symposium held on Thursday, July 7 (Option II).
Here are this year's Richter Scholars and a brief summary of their projects:
Option I participants:
Daniel Contreras '25 and Seemole Kamogelo Moloto '25 with Assistant Professor of Religion Anya Golovkova: "Buddhist spaces in Chicagoland"
Melina Pineda Aguilar '25 with Associate Professor of Religion Benjamin Zeller: "Content analysis of Unicult"
Nicolle Bek '25 and Lia Romanotto '25 with K. & H. Montgomery Assistant Professor of History and African American Studies and Chair of African American Studies Courtney Joseph: "Finding William Peyton: Early Black presence at Lake Forest College"
Finn Kraker '25 and Thomas Mboya '25 with Professor of Music Donald Meyer: "Music composition bootcamp"
Lwandle Dlamini '25, Jessica Caal Chamam '25, and Anela Elze '25 with Professor of Anthropology Holly Swyers: "Mapping diversity"
Ava Ambika Rose Sudman '25 with Associate Professor of Politics and Chair of International Relations James Marquardt: "Racial integration of the US military and the origins of the Cold War"
Delfina Jorgensen '25 and Valen Ferreira '25 with Associate Professor of Politics and Chair of International Relations James Marquardt: "Pacifism and anti-militarism in early twentieth century America"
Ana Sofia Jaramillo '25 with Interim Director of the Entrepreneurship and Innovation Program Katherine Jackson: "Latina lift-off: Following the lead and the need of local Latina founders"
Shelton Mudzingwa '25 and Maria Belen Cuadros Carrion '25 with Visiting Assistant Professor of Finance Nancy Tao: "Exploring racial gaps in financial literacy"
Lira Gezim Zajmi '25 and Naina Almazbekovna Beishembieva '25 with Assistant Professor of Chemistry Nilam Shah: "Developing sensors using nanoparticles and surface-enhanced raman spectroscopy"
Suvexa Pradhan Tuladhar '25 with Assistant Professor of Education Patricia Buenrostro: "Creating inclusive solutions for diversity and equity"
Bilaal Ansari '25 and Kelly Collins '25 with Assistant Professor of Chemistry Paul Gladen: "Synthesis of anti-protozoal natural products"
Ricardo Ordonez '25 with Assistant Professor of Computer Science and Mathematics Sara Zelenberg: "The BEST Building Blocks set"
Christine Dossa '25 with Assistant Professor of Computer Science and Mathematics Sara Zelenberg: "Your best first WORDL"
Ezar Shinbaro '25 and Jagoda Malag '25 with Assistant Professor of Computer Science Sugata Banerji: "Analyzing medical images for diagnosis"
Madeline Michelotti '25 and Ella Schmitt '25 with Associate Professor of Art Tracy Taylor: "Observe, collect, draw!"
Option II participants:
Emily Bross '25 and Chirag Aggarwal '24 with Assistant Professor of Mathematics Arthur Bousquet: "Le Data 2.0"
Lilit Meloyan '25 and Irene Luwabelwa '25 with Assistant Professor of Business Cassondra Batz-Barbarich: "Man up: The impact of gender and self-presentation on female applicant success"
Precious Adimabua '25 and Thabiso Moreti '25 with Associate Professor of Education and Chair of Education Desmond Odugu: "Linguistic practices, education, and development in multilingual Africa"
Hridey Kapoor '25 and Amy Tram '25 with Assistant Professor of Chemistry Erica Schultz: "Removing environmentally persistent pharmaceuticals from waste water"
Katina Lucas '25 with Assistant Professor of Biology Flavia Barbosa: "Evolutionary trade-offs and sexual selection in beetles"
Petra Urgacova '25 with Professor of Biology, Chair of Biology, and Co-Chair of Biochemistry and Molecular Biology Karen Kirk: "The cellular consequence of exceptionally short telomeres"
Kyle Lassen '25 and Jia Zheng '25 with Assistant Professor of Biology Margot Schwalbe: "The fish lateral line system – hair cells to behavior"
Daniel Tulchinskiy '25 and Teresa dos Santos Louro Alves Fernand '25 with Assistant Professor of Biology Rebecca Delventhal: "Molecular mechanisms of injury-induced neurodegeneration"
Calliope Saban '25 with Associate Professor of Biology Sean Menke: "Salty ants: How does winter salt use on roads influence animal nutrition"
Nilufar Imomdodova '25 and Isaiah Moonlight '25 with Disque D. and Carol Gram Deane Professor of Biological Sciences, Chair of Neuroscience, Chair of Pre-Health Advising, Chair of the Health Professions Program, Senior Director for Science Partnerships, and Chair of Nursing Pathways Program Shubhik DebBurman: "Examining the role of the family of synucleins in neurodegenerative diseases using yeast models"
Ahmed Soltan '25 with Associate Professor of Art Tracy Taylor: "Visualizing infertility"
Stefanie Dejneka '25 and Piotr Pawlowicz '25 with Assistant Professor of Chemistry William Conrad: "Cure tuberculosis with molecular biology"

Related links