Chisomo Mwale '19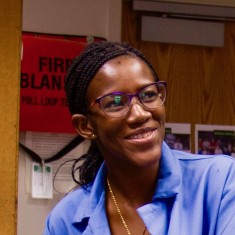 Class Year
2019
Area(s) of Study
Neuroscience major Chemistry minor
Hometown
Zambia
Co-curricular
UMOJA
Eukaryon, award-winning research journal
Achievements
Nu Rho Psi Honor Society
Senior 25
Current Job
Clinical Research Coordinator
Northwestern Feineberg School of Medicine
What attracted you to the College as an international student?

Going to a United World College (UWC) is what brought my attention to the College. The teachers gave us a list of colleges in the U.S. where we would be eligible for a good financial aid package, and Lake Forest College was on that list. I researched the location of the College and thought its proximity to Chicago could provide me with a number of opportunities both academically and culturally. Reading stories on the website really informed my decision to apply and, ultimately, to come here. I used to browse student stories quite frequently and felt like I got a sense of how Lake Forest College provided a "home away from home" for international students. They found their place here, and since I wanted to find the same thing in my college experience, I applied.
What advice would you give to a UWC student if they were considering enrolling here?
UWC students are taught to encourage each other and embrace diversity. We come from different backgrounds and from a community of people who build close friendships. My advice to someone considering Lake Forest College is to not be afraid to step out of your comfort zone and leave your country to study in the U.S. I have found my closest relationships here with faculty members and staff who genuinely appreciate and value my presence. They want to help in any way they can and they're here to support you. It might be scary at first, but you'll find yourself, your place, and your people here.
How does the faculty support you as an international student?
When I got accepted, I did more research on student experiences and found that many students seemed to have a really good relationship with their faculty. I've always had positive relationships with teachers in my educational background, so I liked seeing that Lake Forest College fosters the same student-faculty bonds. My professors put themselves in my shoes and try to understand the struggles I'm dealing with, like being so far away from home. They offer support and I can go to them whenever I need to.
How does the diversity of the student body impact your experience?
As an international student, you add to the diversity while interacting with other minority groups and people from different backgrounds. Everyone here is so receptive. They want to know where you're from and they're always so interested in me. I still can't get over how people react when I say I'm from Zambia, a country that's 21 hours away by plane. It's nice to be part of an accepting community that makes me feel like I belong.
What experiences have you had here that you feel have prepared you for your future career?
When I first came to Lake Forest College, I quickly realized that in addition to classes, I wanted to become part of student organizations. I joined UMOJA—a student organization that focuses on promoting awareness and a cultural perspective of the African continent—and Eukaryon—the College's award-winning undergraduate life sciences research journal. I became a resident assistant, as well. All these experiences have helped me get out of my comfort zone since I'm often interacting with people who I wouldn't normally interact with. Being part of a variety of campus organizations has been a great experience for me.
—Sangjun Hornewer '20