Charlotte Jackson '19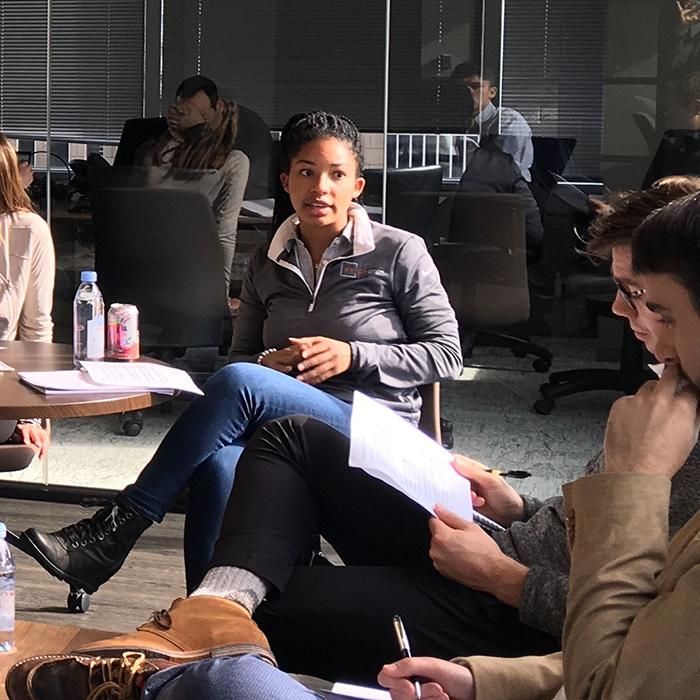 Class Year
2019
Area(s) of Study
Economics / African American Studies & Entrepreneurship
Hometown
Cincinnati, OH
High School
Cincinnati Country Day School
Co-curricular
Women's Varsity Soccer
Current Job
Associate Consultant, Axiom Consulting Partners

Utilizing the Lake Forest community to develop a purposeful career path. Why Lake Forest?
I initially chose Lake Forest because I wanted to play college soccer and I wanted to live geographically close to Chicago, so I thought it was a good choice. I could tell the academics were good so I kind of picked it for those reasons. After leaving, though, I'm still thankful for both of those opportunities to be a student-athlete and to live close to an exciting city like Chicago, but what I find most valuable after leaving Lake Forest, and even more so the older I get, is the community of support throughout the campus, the city of Chicago, and the country. The connections that you make there are going to help you no matter what part of your life you're in. I find that people who graduated from Lake Forest have a deep connection because of how small the campus is, and they are willing to reach out and lend a helping hand to students who are currently at the College and looking to start their careers.
What experiences at Lake Forest have you had that you think have been invaluable to your career?
I think the opportunities to network at Lake Forest are super valuable. For example, the speed networking event at Lake Forest actually helped me land my first internship, and that internship helped develop my values and what I wanted out of my career moving forward. The Career Advancement Center was extremely helpful. My experience with them couldn't have been better. They helped me land every internship that I got prior to graduating. They helped me get my foot in the door in my current role. They helped me with my interviews, my cover notes, and my resume. So, I definitely feel that in working with the Career Advancement Center, I put a lot of work into them, and they gave me that exact energy right back.
How did your time at Lake Forest help shape you as an individual you are today?
My time at Lake Forest helped shape me into the individual I am today by helping me be a lot more intentional about my three-to-five-year plan. I think I apply a lot more rigor to my three-to-five-year goals and try to keep up with my short term and long-term goals as much as possible to make sure I'm not drifting along. I'm being very diligent in where I am with my career and where I want to be in the next three to five years, and even the next 10 years. I think constantly keeping an inventory of that and checking myself is something that I picked up at Lake Forest and is something that is a big part of who I am today.
When you look back on your time at Lake Forest, what is one of the best lessons you've learned that you've carried with you?
I feel like the most important thing that I apply to my life every single day is utilizing the resources that I have available to me. At Lake Forest, that looked like utilizing my professors, academic advisors, colleagues, coaches, the Career Advancement Center, alumni board members, you name it. There is a community of people at your disposal who want to help you and who want to see you do well. It's important to find those resources and those tools in your community, no matter what you're doing in life because if you utilize everything that the world has to offer you, the sky's the limit. It's when you start thinking that you have to have the answers or you have to be able to do this all by yourself without any help is when you're more likely to struggle.
What was one of your most meaningful experiences at LFC and why?
One of my most meaningful experiences at Lake Forest was being a part of the women's soccer team. I definitely feel like I was stretched in terms of my ability to apply discipline and dedication and that definitely helped grow my work ethic, and it also helped me learn how to be part of a team. Soccer is something that's been a part of my life since I was a little girl, so being a team member is something that I was able to learn at a young age. It's definitely something that applies to my career today; I work in project teams all the time, that's what I do on a day-to-day basis. So, if I can't get along with my teammates, then work is going to be very, very difficult.