Virtual Events for First-Year and Transfer Students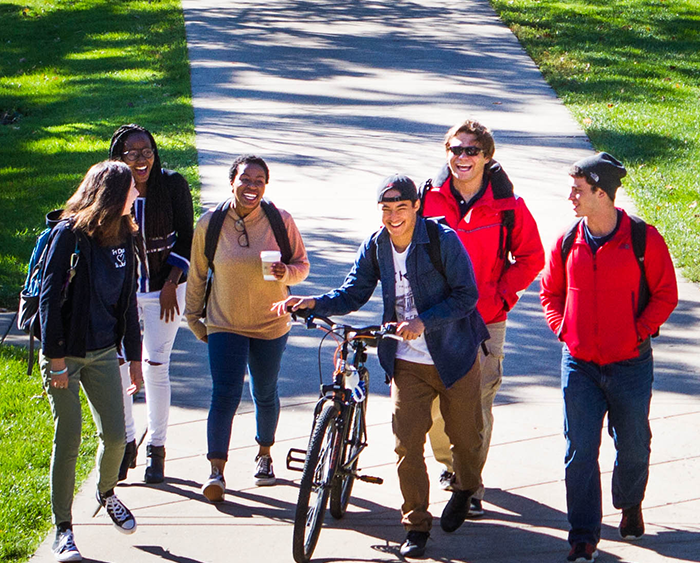 Experience Lake Forest Virtually
Get a glimpse into the Forester life through our numerous virtual event options. Our admissions counselors, current students, faculty, and staff are eager to share what makes Lake Forest College an amazing campus and community.
Plus, you'll receive our $2,000 visit grant when you participate in one of our virtual events. That's $8,000 over the course of four years.
Upcoming Events
Information Sessions
To better assist prospective high school students currently navigating the college search process, Lake Forest College will be hosting four Virtual Information Sessions throughout the month of September to cover everything you need to know about the Lake Forest College experience. Each session will have a current student and two admissions counselors for you to directly connect with on topics such as applying to Lake Forest, the liberal arts experience, and our connections with Chicago. You'll also have a chance to ask your questions directly to the hosts!
Students from Chicago
Monday, September 21 from 7-8 p.m. Central Time
Register here
Midwest Students
Wednesday, September 23 from 6-7 p.m. Central Time
Register here
Applying to College During COVID Workshop
Tuesday, September 15
5:30-7 p.m. Central Time
Register here
Join our counselors Jordan and Franklin as they prepare you for applying to college during COVID. This interactive webinar workshop will answer all the questions you have about the current obstacles present in navigating the college search process. This workshop will cover topics such as submitting (or not submitting) test scores, engaging with a college virtually, and how to write a great college essay to top off your college application. This workshop will be available and useful to both first-year students and transfer students.
Transfer Workshop
Thursday, September 17
6-7:30 p.m. Central Time
Register here
Join our dedicated transfer team and current transfer students for webinar workshop to prepare transfer students for the next steps. This workshop will include tips on how to apply to college as a transfer student, what to consider when choosing a school to transfer to, information on transfer advising, and getting an idea of how your current credits will transfer over. They'll also be taking your questions directly to better assist you in your current situation as well.