<div style="background-image:url(/live/image/gid/29/width/1600/height/300/crop/1/29900_english_header_-_writing.rev.1450298140.png)"/>
<div style="background-image:url(/live/image/gid/29/width/1600/height/300/crop/1/29899_english-_literature.rev.1450298125.png)"/>
English and Creative Writing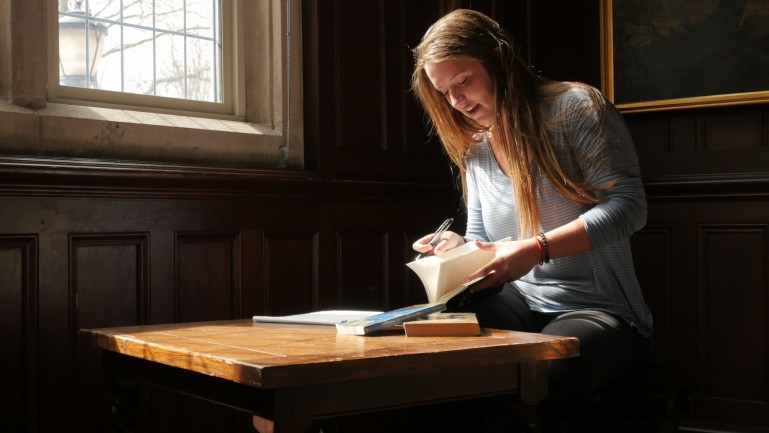 The Department of English and Creative Writing offers courses for all students who wish to enrich their understanding of literature and language and to develop their skills as readers and writers, enabling them to lead constructive and imaginative lives. 
Two Academic Tracks to Choose From 
The major offers creative writing and literature tracks, both of which offer students excellent training in the kind of clear writing, analytical reasoning, and creative thinking necessary for success in any career.
Student Involvement
In addition to off-campus study and internships, students take active roles in the Lake Forest College Press and the Lake Forest Literary Festival. 
Access to Chicago
Students and faculty regularly take advantage of a number of cultural resources that enhance their study of English, with trips to theaters like Chicago Shakespeare, Lookingglass Theater, Writers Theatre, and Second City.
Department News
The English Department and the Centers for Chicago Programs hosted Christina Pugh on October 8, 2019. 

Toni Morrison's works were read and a screening of "The Pieces I Am." This event was huge success. Attendees enjoyed a movie, food, and wonderful cake.
<span class="lw_profiles_image"><span class="lw_item_thumb"><a href="/live/profiles/629-jamie-born-06"><img src="/live/image/gid/29/width/242/height/242/crop/1/src_region/0,0,548,546/27883_jborncopy.rev.1441997531.jpg" alt="Jamie Born '06" title="Jamie Born '06" class="lw_image" width="242" height="242" srcset="/live/image/scale/2x/gid/29/width/242/height/242/crop/1/src_region/0,0,548,546/27883_jborncopy.rev.1441997531.jpg 2x" data-max-w="548" data-max-h="546"/></a></span></span><div class="quote"><p> "The ability to write well and to read critically are so necessary to every aspect of life."</p></div><a class="recruit-link" href="/live/profiles/629-jamie-born-06">Jamie Born teaches high school English now!</a>
<span class="lw_profiles_image"><span class="lw_item_thumb"><a href="/live/profiles/606-travis-mcghee-04"><img src="/live/image/gid/29/width/242/height/242/crop/1/27524_travis_headshot_2.rev.1438893593.jpg" alt="Travis McGhee '04" title="Travis McGhee '04" class="lw_image" width="242" height="242" data-max-w="298" data-max-h="298"/></a></span></span><div class="quote"><p> "If you enter the English program at Lake Forest College, you will absolutely walk across that graduation stage with strong writing skills."</p></div><a class="recruit-link" href="/live/profiles/606-travis-mcghee-04">Get more advice from Travis McGhee, a VP at a Chicago-based holding company.</a>
<span class="lw_profiles_image"><span class="lw_item_thumb"><a href="/live/profiles/640-jenna-hammerich-02"><img src="/live/image/gid/29/width/242/height/242/crop/1/src_region/0,0,1494,1863/27956_jenna_hammerich.rev.1442507130.jpg" alt="Jenna Hammerich '02" title="Jenna Hammerich '02" class="lw_image" width="242" height="242" srcset="/live/image/scale/2x/gid/29/width/242/height/242/crop/1/src_region/0,0,1494,1863/27956_jenna_hammerich.rev.1442507130.jpg 2x, /live/image/scale/3x/gid/29/width/242/height/242/crop/1/src_region/0,0,1494,1863/27956_jenna_hammerich.rev.1442507130.jpg 3x" data-max-w="1494" data-max-h="1863"/></a></span></span><div class="quote"><p> "English majors wear many hats in the workplace, because we know how to research, analyze, and report information; we're good at tailoring our writing to different audiences and purposes; and we're well practiced at creative, conceptual thinking"</p></div><a class="recruit-link" href="/live/profiles/640-jenna-hammerich-02">Jenna Hammerich is the deputy managing editor of The Iowa Review literary magazine</a>
<span class="lw_profiles_image"><span class="lw_item_thumb"><a href="/live/profiles/588-nadia-vinogradova-13"><img src="/live/image/gid/29/width/242/height/242/crop/1/src_region/0,0,230,229/23550_18845_moscow1.rev.1414782437.jpg" alt="Nadia Vinogradova '13" title="Nadia Vinogradova '13" class="lw_image" width="242" height="242" data-max-w="230" data-max-h="345"/></a></span></span><div class="quote"><p> "My advisors and departments were flexible and helped me navigate my two majors."</p></div><a class="recruit-link" href="/live/profiles/588-nadia-vinogradova-13">Today, Nadia is getting a PhD in Slavic literature at Northwestern.</a>
<span class="lw_profiles_image"><span class="lw_item_thumb"><a href="/live/profiles/586-katharine-pflaum-mershon-06"><img src="/live/image/gid/29/width/242/height/242/crop/1/23515_img_0200_1.rev.1414509774.jpg" alt="Katharine Pflaum-Mershon '06" title="Katharine Pflaum-Mershon '06" class="lw_image" width="242" height="242" srcset="/live/image/scale/2x/gid/29/width/242/height/242/crop/1/23515_img_0200_1.rev.1414509774.jpg 2x, /live/image/scale/3x/gid/29/width/242/height/242/crop/1/23515_img_0200_1.rev.1414509774.jpg 3x" data-max-w="1178" data-max-h="1650"/></a></span></span><div class="quote"><p> "I would not be where I am today – in a doctoral program at the University of Chicago – without my Lake Forest College English professors."</p></div><a class="recruit-link" href="/live/profiles/586-katharine-pflaum-mershon-06">Katharine Pflaum-Mershon '06 studies religion and literature</a>
<span class="lw_profiles_image"><span class="lw_item_thumb"><a href="/live/profiles/651-geoff-curtis-97"><img src="/live/image/gid/29/width/242/height/242/crop/1/src_region/0,0,666,567/28848_geoff_curtis3.rev.1445448558.jpg" alt="Geoff Curtis '97" title="Geoff Curtis '97" class="lw_image" width="242" height="242" srcset="/live/image/scale/2x/gid/29/width/242/height/242/crop/1/src_region/0,0,666,567/28848_geoff_curtis3.rev.1445448558.jpg 2x" data-max-w="666" data-max-h="567"/></a></span></span><div class="quote"><p> "Studying English, both writing and literature, has provided me with an appreciation for the power of the written word."</p></div><a class="recruit-link" href="/live/profiles/651-geoff-curtis-97">Geoff is the vice president of corporate communications at Horizon Pharma</a>
<span class="lw_profiles_image"><span class="lw_item_thumb"><a href="/live/profiles/607-sue-barranco-03"><img src="/live/image/gid/29/width/242/height/242/crop/1/src_region/0,182,1365,1547/27540_img_4622.rev.1439308915.jpg" alt="Sue Barranco '03" title="Sue Barranco '03" class="lw_image" width="242" height="242" srcset="/live/image/scale/2x/gid/29/width/242/height/242/crop/1/src_region/0,182,1365,1547/27540_img_4622.rev.1439308915.jpg 2x, /live/image/scale/3x/gid/29/width/242/height/242/crop/1/src_region/0,182,1365,1547/27540_img_4622.rev.1439308915.jpg 3x" data-max-w="1365" data-max-h="2048"/></a></span></span><div class="quote"><p> While studying English, I began to develop the analytical and critical thinking skills necessary to be admitted into and to succeed in law school.</p></div><a class="recruit-link" href="/live/profiles/607-sue-barranco-03">Today, Sue is a successful lawyer in Milwaukee, Wisconsin.</a>
<span class="lw_profiles_image"><span class="lw_item_thumb"><a href="/live/profiles/2302-emily-capettini-09"><img src="/live/image/gid/29/width/242/height/242/crop/1/src_region/0,0,450,450/34980_emily_capettini.rev.1481574718.jpg" alt="Emily Capettini '09" title="Emily Capettini '09" class="lw_image" width="242" height="242" data-max-w="450" data-max-h="450"/></a></span></span><div class="quote"><p> "The <strong>Writing Track at Lake Forest College</strong> invites you to smash the barriers of genre and <em>find your own voice</em> among contemporary writers." </p></div><a class="recruit-link" href="/live/profiles/2302-emily-capettini-09">Emily is an award-winning author, editor, and professor of English.</a>