Michael Peters '17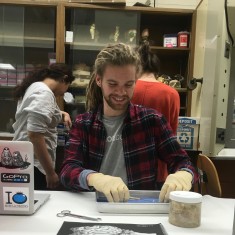 Class Year
2017
Area(s) of Study
French and Biology Double Major
Hometown
Schladming, Austria
Current Job
MSN
Rush University
What made you choose Lake Forest College?
I went to an international school in Germany for high school. In Germany, I was met with the choice of playing soccer at a more serious level or going to university, but I wanted to do both. When I found out that sports are connected to college in the United States, it seemed to be an excellent option for me. I applied to quite a few schools in the States, and I was looking for a school that had a strong academic reputation, especially in the sciences, and a competitive soccer program. When it came down to it, the combination of great academics, a competitive soccer program, proximity to Chicago, a generous financial aid package, and a beautiful campus made Lake Forest College my number one choice.
How did a liberal arts education make a difference for you?
I enjoyed a liberal arts education because it allowed me to explore various interests that I had developed throughout high school. I double-majored in biology and French while completing the pre-med track because I knew that, ultimately, I wanted to work in some aspect of healthcare in a francophone country. I also really enjoyed all the English literature classes I took, as they made me a better writer, and an accelerated Spanish class would prove very helpful once I started working in a hospital on the west side of Chicago.
What experiences outside of the classroom do you think helped prepare you for nursing school?
The internships I completed during my time at Lake Forest College helped prepare me most for nursing school. I had an internship at Lake Forest Acute Care, an urgent care center where I was able to provide care as a patient care technician. I was also an intern at the North Shore Health Center, which gave me very valuable experience in community health. Finally, I did an internship as part of my study abroad program in Senegal, where I was an intern at a health post in a rural village on the border of Senegal and Gambia. Playing sports also helped me tremendously, as it forced me to develop good time management skills.
How did your time at Lake Forest help you prepare to apply to nursing programs?
What helped me the most was the Forester Game Plan for athletes, where we would have mock interviews, learn to build our resumes and how to market ourselves as student-athletes, and more. My science classes and the emphasis on reading and interpreting scientific articles also put me at an advantage once I got to nursing school.
What skills and experiences do you believe will help you be successful?
Skills and experiences that I believe will help me be successful as a nurse are the languages that I developed while I was a student at Lake Forest College; the connections that I made to faculty, students, and the city of Chicago; and the ability to be flexible, organized, and manage my time effectively.
What advice would you give a high school student looking to pursue pre-health?
Lake Forest College has an excellent pre-health program. Whether you want to go to medical school or become a pharmacist, physician's assistant, nurse, or any other capacity of healthcare worker, Lake Forest College has the connections and faculty to prepare you for success. The small size of the College enables students to connect with professors on a personal level, which is crucial for recommendations, future schooling, and even internships. Also, Chicago is just a train ride away, and the opportunities connected to the city are endless and a worthwhile reason to choose Lake Forest College.