Mara Negru '17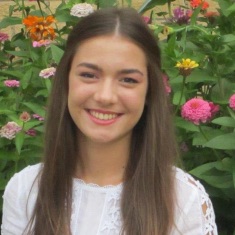 Class Year
2017
Area(s) of Study
Neuroscience Major and Studio Art Minor
Graduate Study
Physician Assistant (PA) Program at Rosalind Franklin University
Current Job
MS-PA
Rosalind Franklin University
What made you choose Lake Forest College?
I chose to attend Lake Forest College because I wanted to stay close to home and my parents. I grew up in the Northwest suburbs and Lake Forest was only 45 minutes away, which meant I could go home and see my beloved dog whenever I wanted! I also loved the location of Lake Forest - walking distance to Lake Michigan, close to downtown Chicago, and a beautiful historic neighborhood.
How did a liberal arts education make a difference for you?
I really enjoyed the liberal arts education because it let me study a variety of courses and subjects that all counted towards my Gen Eds and major. It also allowed me to major in Neuroscience and minor in Studio Art. I was able to break up my science heavy schedule with fun art classes that I enjoyed and allowed me to be creative every semester.
What experiences outside of the classroom do you think helped prepare you for graduate school?
I had an internship at Lake Forest Acute Care which turned into a job for me as a medical scribe and patient care tech before starting graduate school to become a Physician Assistant. The hands on medical and healthcare knowledge I gained while working there has helped me prepare for graduate school more than any lecture or lab-based class ever could have.
How did your time at Lake Forest help you prepare for apply to graduate school?
I was very involved at Lake Forest College in extracurricular activities. I worked in the Health and Wellness Canter as a Wellness Peer Educator, I ran the Relay for Life committee, I was a Forester Guide that helped welcome new students each fall, I was the Vice President that helped start a medical fraternity, and I worked in the Gates Center as the Manager of Security for the Mohr Student Center. All these activities helped me become much more organized and manage my time between studying and extracurriculars. I believe this greatly helps me in graduate school as it allows me to manage my education and personal life with greater ease.
What advice would you give a high school student looking to pursue grad/med school and is considering going to Lake Forest?
Work hard in your classes, but also make yourself a well-rounded applicant. There are so many opportunities to get involved in at Lake Forest College so take advantage of them. Join clubs and extracurriculars activities in all of your interests, and if what you're interested in doesn't exist -then create the club yourself! College is a lot about trial and error but keep in mind that your sanity and health should be most important. Grad schools and any job you will apply to in the future will like to see that you can succeed in your job/education while also having activities and on the side. They want to see that you have other interests and can have a variety of goals and aspirations to work towards that make you an interesting and a well-rounded individual.