Ellie Bacon '19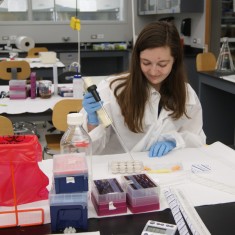 Class Year
2019
Hometown
Saint Louis, MO
Graduate Study
University of Illinois College of Veterinary Medicine
Current Job
DVM
University of Illinois Urbana-Champaign
What made you choose Lake Forest College?:
I chose Lake Forest College because I loved the small class sizes and I heard they had a good Biology program. They were just starting construction on the new science building at the time as well which was super exciting! I also wanted to go to a smaller liberal arts college where I could feel part of a community and make true personal connections.
How did a liberal arts education make a difference for you?:
I am so glad I chose to pursue a liberal arts education as it was definitely the right fit for me. As someone with eclectic interests, it allowed me to learn about a wide variety of topics while still focusing on my main passion of science. It also taught me the importance of collaboration between fields as well as broadened my view on the world. I believe in the importance of being exposed to multiple ideas and viewpoints, especially in research. By having different brains come together, it helps to ensure that any flaws in a study design are caught and it allows for more creativity.
What experiences outside of the classroom do you think helped prepare you for your graduate program?:
The number one outside of classroom experience that helped me prepare for my dual degree program would be the for-credit internships I got to take. Because Lake Forest is a small school, it allows you to have a lot of access to career building resources. It was quite easy for me to set up various internships at places like Chicago Equine Medical Center, the Wildlife Discovery Center, and Niles Animal Hospital and Bird Medical Center. Additionally, I was able to attend many research symposiums hosted at the college over a wide range of fascinating topics and even got the opportunity to attend dinner with a small group of students and the speaker on a few occasions.
How did your time at Lake Forest help you prepare to apply for your current professional position?:
Lake Forest has a multitude of great opportunities for students in the sciences. For me personally, I participated in the Richter Scholar Program the summer between my Freshman and Sophomore years where I got to conduct research in a small lab environment. Before that point, I knew very little about scientific research and was solely focused on becoming a veterinarian. But after I completed my project, I realized that research provided me with the ability to advance science by answering unknown questions. As a result, I chose to complete a senior thesis in biology. Lake Forest College is an extremely nice environment for research as, due to its small size, professors are highly accessible and research labs are close knit. Lake Forest's curriculum was another huge factor as it allowed me a certain level of flexibility in my schedule such as the ability to set-up veterinary hospital internship opportunities and to easily change classes if needed.
What do you think of the new Health Professions Program between LFC and RFU?
I was extremely excited and jealous when I learned of this new program! It can be hard to find a smaller liberal arts college that has such an extensive pre-health program and dual-degree opportunities. Lake Forest has a longstanding relationship with Rosalind Franklin University and I think it is an excellent idea to grow this relationship by setting up this program. It encapsulates many of the opportunities I had such as internships and my senior thesis into a more structured format that allows students to gain an additional degree. I am particularly excited about the flexibility of this program. The fact that students are able to choose their majors and minors as well as choose from a variety of courses will truly let students shape their academic experience in a way that suits them best. Flexibility is also provided in the way that students are able to learn about a wide range of health pathways and professions. I am currently working to become a research veterinarian, instead of the more traditional, clinical veterinarian. As someone pursuing a less traditional path of study in healthcare, having more information about alternative career paths would have been extremely useful.
What skills and experiences at Lake Forest do you believe will help you be successful?:
I learned how to communicate scientific information to a lay audience. This certainly helps me in both my neuroscience program and my veterinary medicine program. Both explaining your research findings to a broader audience and discussing treatment plans to patients requires excellent communication skills. Another great part about attending Lake Forest College is that the small class sizes allow for excellent discussion-based learning. For instance, in many of my science classes students would present summaries on research papers. At the end of each presentation, we would always have the chance to ask questions and to think deeply about potential ways to improve the study.
What advice would you give a high school student looking to pursue pre-health and is considering Lake Forest College?:
Lake Forest College will give you a ton of access to resources that may be harder to obtain at a larger university where there is more competition among students. Additionally, I truly felt like all the professors cared about my wellbeing and made themselves readily available anytime I was struggling with a subject or wanted career advice