Danielle Shaw '20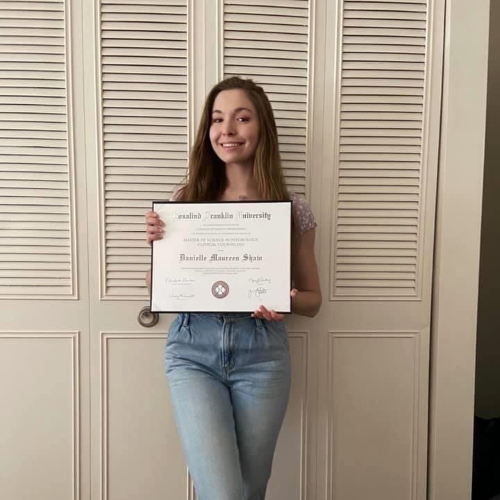 Class Year
2020
Area(s) of Study
Major in Psychology and Minor in Biology
Hometown
Carol Stream, Illinois
Graduate Study
MS-Clinical Counseling
What made you choose Lake Forest College?
I chose Lake Forest College primarily based on the professor-to-student ratio. Professors get to know and are available to provide assistance to their students; they make the effort to create a welcoming learning environment.
How did a liberal arts education make a difference for you?
I am thankful to have experienced a wide variety of academic areas of study, which I believe helped me to gain a more well-rounded educational background.
What experiences outside of the classroom do you think helped prepare you for MS in Clinical Counseling programs?
My undergraduate internship was incredibly helpful in preparing me for the Clinical Counseling program, it provided me with real-world experience and offered a glimpse into what topics and materials the program curriculum may cover.
How did your time at Lake Forest help you prepare to apply for graduate school?
The professors and coursework from the Psychology, Neuroscience, and Biology programs were extremely effective in preparing me for the application process and the MS program ahead of me. From personal experience, I think the professors really push their students to succeed and challenge them to put forth their absolute best work. The courses offered are very well-rounded and gave me a chance to explore specified areas of study that interested me. During my time at Lake Forest College, I developed a strong work ethic and study routine that helped me to excel at Rosalind Franklin University.
What skills and experiences at Lake Forest College do you believe will help you be successful?
I cannot stress how extremely thankful I am for my experiences at Lake Forest College and the skills I acquired. Combined, these have crystallized a strong work ethic in me and fostered aspirations for my future career path. Lake Forest College showed me the importance of keeping an open mind and learning from past experiences to move towards improvement. Most importantly, these experiences and skills taught me to strive for excellence in my academic and professional career.
What advice would you give a high school student looking to pursue pre-health and is considering Lake Forest College?
I would tell them to go for it! Coming from a former pre-health student, Lake Forest College is a great choice; you will receive a high-quality education and learn from some of the best professors out there. Pre-health is an ever-growing career field and there are many opportunities out there, Lake Forest College will be an excellent resource and stepping stone to help you get started. Not to mention, you will create lifelong connections with peers and professors that will aid you in future successes!