Biochemistry and Molecular Biology
Ayesha Quraishi '19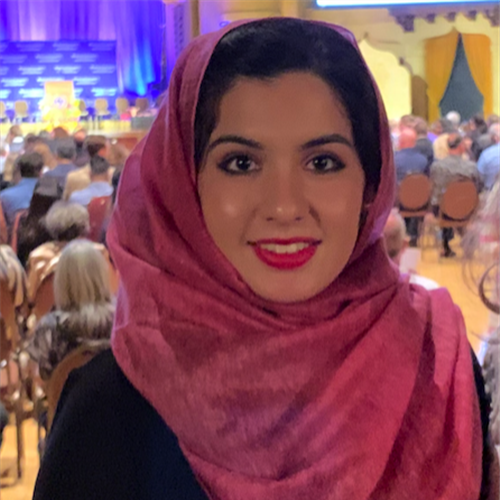 Class Year
2019
Area(s) of Study
Double Major in Biochemistry and Molecular Biology and International Relations
Hometown
Chicago, Illinois
Why did you choose Lake Forest College?
I chose Lake Forest College because of its financial aid package, proximity to Chicago, and small classroom setting. I was a hard worker in high school, but because my high school was so big I didn't get the guidance I needed to do well. I had to attend college where I felt most supported, and I am so happy I chose Lake Forest College because it opened many doors for me. The faculty at Lake Forest College are astounding; when I was writing my personal statement for medical school, Associate Professor of Environmental Studies Glenn Adelson met with me every Tuesday morning between January and May to go over my revisions.
What are you doing currently?
I am a proud osteopathic medical student because I have additional tools in my treatment plan, such as OMM (osteopathic manipulative medicine) to treat my patients—especially as it applies to palliative care. I am also a Health Policy and Legislative Affairs Fellow for the Student National Medical Association, in which my project involves delivering violence screenings to urban health care centers. Last summer, I led a resolution on trauma-informed policing and community oversight with the Medical Student Section of the American Medical Association (AMA), which was incorporated in the AMA's official police reform policy statement.
How did a liberal arts education make a difference to you?
It wasn't until Associate Professor of Politics and Chair of International Relations James Marquardt sent me to a global health conference in the spring of my first year that I realized I wanted to become a physician. This opportunity opened my mind on how I can apply my identity as an Afghan American woman to my future career. This first-year experience led me to write my international relations senior thesis on Afghanistan's human security crisis and how violence is a health epidemic. My advocacy for trauma-informed care and violence prevention is a manifestation of my liberal arts experience.
How did your time at Lake Forest help you prepare for graduate school?
Compassion, communication, and critical thinking are important attributes of a physician instilled in me by the phenomenal faculty at Lake Forest College. The stimulating liberal arts curriculum and supportive Forester family brought greater clarity in my path to medicine. My four years at Lake Forest College were not easy; they were very challenging at times. However, the collaborative community really helped me excel in school and prepare me for the rigor of medical school. I also gained lifelong skills that will manifest in the clinic with my future patients.
What do you think of the new Health Professions Program between Lake Forest College and Rosalind Franklin University?
This is a fantastic opportunity for pre-health students to gain early exposure to the health care field. To have the liberal arts experience in today's medical world is an advantage, and the Health Professions Program only augments that further. Lake Forest College continues to prepare students for the best professional future, while making it a meaningful experience in the process.
What advice would you give to a high school student looking to pursue pre-health and is considering Lake Forest College?
Getting good grades, strong MCAT score, research, extracurriculars, and clinical experience play a large role in medical school admissions. At Lake Forest College, you will be given the opportunity to excel in these pre-requisites, and it won't be as stressful as you think. The supportive community and access to faculty who will mentor you throughout the process played a large role in achieving my post-graduate goals. If you are pre-health, choose the college that is going to support you and make this journey more meaningful.