Modern Languages and Literatures
Lisa Kiken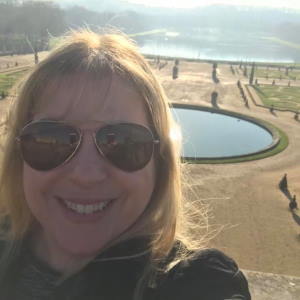 Class Year
1997
Area(s) of Study
Major in French
Minor in English
Hometown
South Riding, Virgina
Graduate Study
Master of Science in Broadcast Journalism, Syracuse University
Current Job
Current job: Digital Marketing Manager, Flinn Scientific
How did you explore your interests and decide on a major/majors?
I entered Lake Forest College wanting to study sports psychology but quickly discovered I actually wasn't interested in it and want to broaden my international experience, and that included language. I grew up near Quebec so French was always a nearby interest.
Describe a moment or experience you had in college that helped define your career path.
Studying abroad in Paris, France but more doing my internship at the International Herald Tribune, was an important time for me.Thanks to that experience, and continuing my relationships with those whom I met there, my first job out of college was at the IHT in Paris. It formed a lifelong love of working in journalism, using French language and involvement in Francophone countries.
What steps did you take at Lake Forest College to prepare for your career?
I strongly believe a rigorous liberal arts education at LFC was important to helping me form the direction of my career. It allowed me to sample classes from various fields and, in turn, truly find my passion and grow professionally.
What role did your internship or research experience play in shaping your career path?
I worked for an educational robotics company, in sales and marketing, helping to grow the company and eventually we sold it to another larger competitor. While there, I was able to use my French skills to work with international distributors, communicate with our colleague in Montreal and even work to translate our project booklets in French with a professional translator.
What would you recommend Lake Forest College students considering a career in your field do to prepare?
Lake Forest College has incredible study abroad programs and I'd highly recommend that all students take advantage of these programs. Definitely take all of the language courses possible on varied topics, even if you're not sure you'll like a topic.
How did the Department of Modern Languages, other department, Career Advancement Center and/or the Forester community give you an edge on taking your first steps after graduation?
Lake Forest College as a whole is a wonderful, nurturing environment with enough hand-holding as needed, and letting you spread your wings as young adults need to do. The Department of Modern Languages really wants to work with students and offer ways to help them succeed. Professors in the Modern Languages and Literatures department are well educated in their fields, care about students' success and provide creative ways for students to grow in Language studies.
What have you found the most rewarding in your career and life after graduation?
Post LFC, my life became truly international. I travel to France and other francophone countries every couple of years. I continue to use French with the family I married into, and friends I have made along the way.