Modern Languages and Literatures
Belany Contreras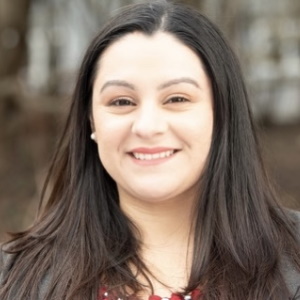 Class Year
2017
Area(s) of Study
Latin American Studies/Spanish, Social Justice, Legal Studies
Hometown
Chicago
Internships
Colegio Marista La Inmaculada Granada, Prairie State Legal Services, Ascend Justice, Greater Chicago Legal Clinic
Graduate Study
Juris Doctor Degree from UIC School of Law
Current Job
Law Clerk, North Suburban Legal Aid Clinic
How did you explore your interests and decide on a major/majors? (particularly in languages, combined with other academic interests)
I've always been curious about languages and culture. The second time I visited Lake Forest College, I scheduled a meeting with Professor Meneses to learn more about the college's Spanish program. I always knew that wherever I would end up after college, whether it be in the legal field or teaching field, Spanish would be extremely useful. I took as many Spanish classes as I could, and I participated in the study abroad program in Spain to strengthen my Spanish skills and knowledge.
Describe a moment or experience you had in college that helped define your career path (coursework, internship, study abroad, student organization, etc.)
During my junior year at Lake Forest College, I interned at the Domestic Violence Legal Clinic in Chicago (now Ascend Justice). DVLC worked with a handful of victims every day, and they offered me the training and experience I needed to help these victims. DVLC had one immigration attorney that worked with victims who qualified for immigration benefits. After expressing my interest to work with immigration cases, I started working with the attorney on those cases. Many of our clients were only Spanish speaking. Their situations were extremely difficult, and I tried my best to earn their trust and make them feel comfortable. At the end of my internship, the attorney encouraged me to continue doing this type of work. She told me that I was very talented, which made me feel proud of all the hard work I had done. Most importantly, I felt like my work made a difference in the community and in the lives of those that I worked with. My experience at DVLC definitely strengthened my interest to study law and become an immigration attorney. Today, I continue to work with immigrant victims of crimes.
What steps did you take at Lake Forest College to prepare for your career?
One word: Internships. There's really no better way of learning what you like (or don't like) than experiencing the work first handedly. Lake Forest College does an amazing job with helping students find internships. During my time at Lake Forest College, I completed three internships. Every one of them was rewarding in their own unique way. When I was looking at law schools, I sought a school that similarly offered or encouraged internship opportunities, because Lake Forest College helped me learn how valuable these opportunities were, and I wanted to continue studying in a school that shared the same perspective.
What would you recommend Lake Forest College students considering a career in your field do to prepare?
Work via an internship and do not underestimate networking opportunities. Attorneys need to be confident, determined, and willing to take risks. The legal community is small, even in Chicago. Everyone knows everyone, so the sooner you start to meet people, the better it will be for you personally and professionally. I met really important individuals at networking events hosted by Lake Forest College and met them again sometime later. The people that attend these events usually want to be a resource for you. Take advantage of it because you never know how valuable those connections may be. Take your internships seriously. These experiences can have an enormous impact on your life (and others'), so give them your all. Have an open mind and start getting comfortable with being uncomfortable. Attorneys will oftentimes deal with complicated situations, whether it be with a difficult client or a difficult case. Take the internship or the class that you're not sure about. Make the mistakes now while you can and learn from them. There is not one single path to success. Everyone's journey and successes are meant to be different.
How did the Department of Modern Languages, other department, Career Advancement Center and/or the Forester community give you an edge on taking your first steps after graduation?
My confidence and speaking skills grew tremendously during my time at Lake Forest College. When I first started college, I was very shy and did not look forward to speaking in class or giving a presentation. By my senior year, I felt a huge difference in my confidence, and I enjoyed speaking and giving presentations. Most of my Spanish classes involved a lot of speaking and writing, so consequently those skills strengthened.
What have you found the most rewarding in your career and life after graduation?
The most rewarding part about my career is the feeling that my work is making a difference in my community and in the lives of the people I work with. My Hispanic background and upbringing has made me culturally aware of situations or traditions that Hispanics may have. When working with my clients, I can relate to them. As an immigrant myself, I often see myself or my family in my clients. I've always loved helping people, and I am so grateful that I can help underprivileged and underrepresented individuals for a living. I truly love the work that I do.