Reshma Kurian '16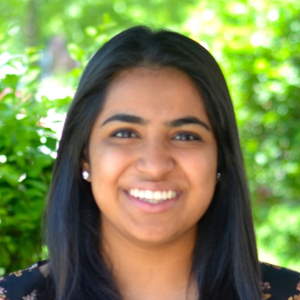 Class Year
2016
Area(s) of Study
Major in Biology and Minor in Neuroscience
Hometown
Glenview, Illinois
Current Job
Site Coordinator
Milwaukee Health Department
Graduate Study
MS- Public Health and Policy Administration
University of Wisconsin-Milwaukee
What made you choose Lake Forest College?
I wanted to go to LFC because I liked the small college aspect and I would be able to have better relationships with my professors and peers. I knew that the structure and strong reputation of the science department would help me in my future in health services.
How did a liberal arts education make a difference for you?
Having a liberal arts education provided me with a broader understanding of my classes and allowed me to venture out of the intense science courses with courses from various disciplines. It benefitted me to take sociology, psychology, and spanish classes because I was able to refine skills that would help me in graduate classes and other jobs.
What experiences outside of the classroom do you think helped prepare you for your graduate program?
The internships that I completed throughout college and the many shadowing experiences I had helped prepare me to be ready for my MPH program. Managing internships and coursework was challenging in undergrad, however it forced me to improve time-management skills as well as networking.
How did your time at Lake Forest help you prepare to apply for your current professional position?
By participating in multiple organizations and being on the executive board for most of them such as Alpha Phi Omega, the co-ed service fraternity, and Eukaryon, the life science journal, I was able to develop leadership skills and learn how to handle complex situations. The coursework at LFC was very detail-oriented and the professors really focused on your comprehension of the material. This led to become a strong leader and a better team player.
What do you think of the new Health Professions Program between LFC and RFU?
I think this new program will benefit all students because it will open opportunities for students to explore their interests in healthcare. It is a great partnership that will attract many students that want the challenge and a direct path of a dual degree and it is enhanced with the environment and class structure of a smaller liberal arts college.
This program would have helped me understand the breadth of what healthcare really is and would have allowed me to better understand the variety of careers that are within the healthcare field. I always knew that I wanted to work in health services and help people in their time of need. So by having this program available during my time at LFC, it would have provided me with information and guidance as to the direction that I could follow for my career. As an undergraduate student it is important to explore the different options that are available to gain a better perspective of those various options. The Health Professions Program would have been a great stepping stone for my peers and I that wanted to become medical professionals. I think this program would have helped us hone in on our strengths that will allow us to become well-rounded medical professionals.
What skills and experiences at Lake Forest do you believe will help you be successful?
I feel that throughout my four years at LFC I was able to gain and improve many skills in leadership, organization, dedication, social awareness, and many more through the various organizations that I was a part of. With the Forester Day of Service that we participated in each year, it was a good reminder to be able to give back to the surrounding communities and help those that need it.
What advice would you give a high school student looking to pursue pre-health and is considering Lake Forest College?
I advise that first and foremost, you should definitely shadow and talk to someone in the field that you are considering. This opens up a whole new perspective to the career you are interested in and they will provide you with insight on the daily challenges and positive aspects of that career choice. LFC would be one of the best places to start working towards your career since it has such a wide breadth of faculty and coursework that will cultivate the foundation you would need to leap forward for your future.