Carris Borland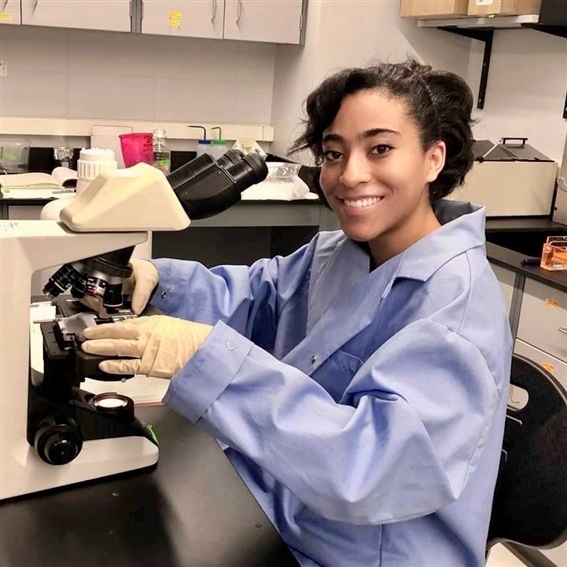 Class Year
2021
Area(s) of Study
Major: Biochemistry and Molecular Biology; Minor: Neuroscience
Hometown
Waukegan, IL
Transferred From
College of Lake County
Achievements
Recipient of Nu Rho Psi research grant
Carris Borland '21 is studying biochemistry and molecular biology and neuroscience. She is currently carrying out research on Parkinson's with Dr. DebBurman for her senior thesis. She earned a grant from the national Nu Rho Psi organization for her research. She dedicates as much time as she can to conducting experiments.
Why did you choose to attend Lake Forest College?
I have always been into science. I studied biology at the College of Lake County, and my favorite subject was chemistry 1 and 2; I was really good at it. After getting my associate's degree, I looked at a number of colleges. I really liked Lake Forest College for a number of reasons. The science programs are really good. I also liked that it is close by since I was uncomfortable being far away. Having a close, nice school was really helpful. I liked that it was a private university with a small class size. I felt like I was a unique student instead of being at a large public school. The faculty is exceptional.
Has Lake Forest College lived up to your expectations?
Definitely. Actually, I feel like it exceeded my expectations. Advisors and professors drive you to do your best. They have prepared me to communicate effectively and not be afraid to try new things. I was nervous about doing a research proposal, but thanks to the help and advising of Dr. DebBurman, I was able to do the grant application and present my work.
What does winning the Nh Rou Si grant mean for your future?
I am very happy about, and proud of, winning the grant. For my future, I know it will help make my PhD application stronger. It will show that I know what it is like to do research. I know if I become a scientist in a PhD program, I will have to apply for grants. This will be a big help to set my application apart. Personally, it gave me more confidence to pursue my future as a PhD student.
What made you want to pursue a PhD?
I have actually wanted to become a scientist since I was 8 years old. I have always really loved science. As I was going through high school, I started to look at medicine. That continued to be my goal through CLC. When I got to Lake Forest, however, I decided to major in biochemistry and molecular biology. Dr. DebBurhman offered me position to work in lab in the summer, so I had a wonderful mentor and my own little project. I started to realize that research was actually fun and maybe I do not want to do medicine. I like answering scientific questions. I find it very interesting and fascinating. After attending Lake Forest College and working in the D-Lab, I decided I wanted to try to go for my PhD.
Because I have been working in the lab for some time, especially with the pandemic, I am able to experience what it is like to go through an actual PhD program. I know that it will be challenging. I know that there will be times I will fail; my research will not necessarily work all the time. I have already experienced that. I have experienced writing a grant proposal and getting funded. I also have experience answering specific questions. I really do have a good idea of what it is like to be in a PhD program. Despite some of the drawbacks and challenges that will happen in the program, I am more than excited to try.
Do you think these same opportunities would be accessible at a big university?
I really do not think I would have gotten this opportunity at a big university. The class sizes are humongous. I came from CLC as a transfer living in Waukegan, my family is not fortunate. I needed a very good educational environment to know I can succeed here. I will be known to my professors. In a smaller environment that is more concentrated, I knew I would be able to excel more and be more comfortable. That is exactly what Lake Forest provided.
What advice would you give to a student considering transferring to Lake Forest College?
I recommend transferring to Lake Forest College, especially from CLC because It is a guaranteed transfer. It is easy to get adjusted. The campus is so beautiful, and everybody is so nice. Class sizes are small and cozy as well, it is just wonderful. I recommend joining Phi Beta Kappa as well. The work at Lake Forest is more accelerated and challenging, but it is doable. Professors and other students help you. Applying was a pretty easy process, once you read over what is required from transfer students.
-Katy Knuckles '21