Modern Languages and Literatures
Marilen Loyola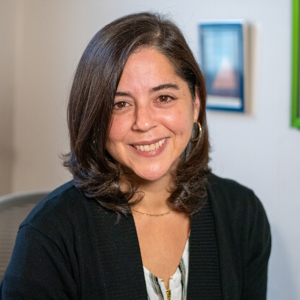 Assistant Professor of Spanish
Modern Languages
Carnegie Hall 106
847-735-5278
Education
Ph.D. Spanish, University of Wisconsin-Madison
M.A. Spanish, University of Wisconsin-Madison
M.A. Anthropology, University of Wisconsin-Madison
B.A. Anthropology, University of Michigan
Publications
"Migrating Scenes: Designing and Teaching an Undergraduate Seminar/Topics Course on Migration and Movement in the Hispanic World." In Teaching Migration in Literature, Film and Media. Masha Salazkina and Yumna Siddiqi, eds. Modern Language Association. Under review.
"'Voces rotas entre la tierra': Muerte, reclusión y memoria en NN12 de Gracia Morales." Actas del VI Congreso Internacional de Estreno: "Teatro y reclusión." Lourdes Bueno and Cerstin Bauer-Funke, eds. Estreno. Special edition. Forthcoming, 2023.
"Memory and the Ethical Imagination: the Holocaust and Deportation to Mauthausen in Twenty-first Century Spanish Theater." Spain, the Second World War, and the Holocaust: History and Representation. Sara Brenneis and Gina Herrmann, eds. University of Toronto Press, 2020.
"La inmigración, la incomprensión, y la inocencia en Una tarde con campanas (2004) de Juan Carlos Méndez Guédez." Online conference proceedings for the Heritages of Migration Conference, Univ. of Birmingham, UK, held in Buenos Aires, Argentina, April 2017, pp. 434-443.
"Prólogo" / Animales Nocturnos de Juan Mayorga. Online prologue. Biblioteca Digital. Draft.Inn, Space for Risk in the Performing Arts. http://draftinn.com/animales-nocturnos-de-juan-mayorga/. October 2014.
"In Search of Cuba: Remembering and Returning the Writings of Three Cuban Novelists in Exile." Book Chapter. In Cuba: contrapuntos de cultura, historia y sociedad / Cuba: Counterpoints in Culture, History, and Society, pages 319-342. Francisco Scarano and Margarita Zamora, eds. Ediciones Callejón: San Juan, Puerto Rico, 2007.
Recent Conference Presentations
"Disruption, Survival, and Resilience in La infamia, adapted by Lydia Cacho and José Martret." Roundtable presentation. The 54th Northeast Modern Language Association Convention (NeMLA), "Resilience," in Niagara Falls, NY, March 23-26, 2023.
"Una buena ilusión: la esperanza, la imaginación y la verdad en 'Tren hacia la dicha' (1986) de Amado del Pino." Conference presentation. South Atlantic Modern Language Association Convention (SAMLA), "Change." Virtual, originally planned as an in-person conference. November 11-13, 2022.
"Resignifying Stages in Spain and Mexico: An Exploration of Transatlantic Memory Theater in the 21st Century." Conference presentation. Transatlantic Studies Association Annual Conference, hosted by the University of Kent, Canterbury, UK. July 4-6, 2022.
"La ceguera, la memoria y la imaginación ética en el teatro breve de Juan Mayorga." Conference Presentation. XXX Congreso Internacional de Literatura y Estudios Hispánicos (CILH) in Sevilla, Spain. June 27-29, 2022.
"'Voces rotas entre la tierra': muerte, reclusión, y memoria en NN12 de Gracia Morales." Conference Presentation. VI Congreso Internacional, Estreno, "Reclusión y memoria." Hosted by the Westfälische Wilhelms-Universität Münster, Münster, Germany. June 22-25, 2022.
"Language, Longing, and Migration to/from Spain in the film Las Cartas de Alou (1990) and the television series Mar de plástico (2016)." Conference Presentation. The 28th International Congress of FILLM (International Federation for Modern Languages and Literatures). Virtual conference hosted in Vienna, Austria. The section/panel topic: "Linguistic and literary studies in diaspora and migrant communities." July 18-21, 2021.
"The What, Why, and How of Short-Term Study Abroad Trips at RU: A Workshop." Rockford University Online Brown Bag Series workshop co-presented with Maria Diemer, Director of Global Affairs, April 19, 2021.
"Negotiating Meaning, Identity, and a Longing for Home in the film Las Cartas de Alou (1990)." Online Conference Presentation. Kentucky Foreign Language Conference (KFLC). April 22-24, 2021.
"Creativity, Crisis, and Why Our Imaginations Matter." Last Lecture Award presentation, nominated and selected by students. Rockford University, Rockford, IL. 1 February 2021.
"Performing Spaniards in Mauthausen during WWII: Film vs. Theater." Rockford University Brown Bag Series presentation. Rockford University, Rockford, IL. December 2, 2019.
"Visualizing the Voices of Migration in Javier de Isusi's graphic novel Asӯlum (2015)." Conference Presentation. Modern Language Association International Symposium, Lisbon, Portugal. July 25-28, 2019.
Awards
Faculty Development Grant Award. Rockford University, 2016, 2017, 2019, 2020, & 2022
Individual Faculty Grant. Rockford University, 2018-2022
Awarded Tenure and promoted to Associate Professor, Rockford University, Spring 2021
Last Lecture Award Recipient. Nominated by Rockford University students. Lecture delivered virtually on February 1, 2021.
Summer Research Stipend. Rockford University, March 2019
Excellence in Teaching Award. Rockford University, May 2018
Student Club Advisor of the Year Award. Rockford University, May 2018
Humanities Institute Faculty Fellowship. University of Texas at Austin, Spring 2015
Mellon-Wisconsin Summer Dissertation Fellowship. UW-Madison, Summer 2013
Title VI Foreign Language and Area Studies Fellowships for Portuguese (completed) and Haitian Creole (unable to attend), 2004 & 2005
Letters & Science Teaching Fellow Award. University of Wisconsin-Madison, 2003
Advanced Opportunity Fellow. University of Wisconsin-Madison, 1996-1997, 1998-1999