Career Advisors Offer Express Advising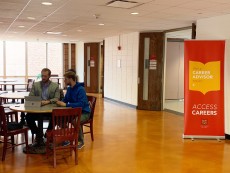 Connect with the Career Advancement Center for easy drop-in appointments!
The Career Advancement Center (CAC) is making discussions with a career advisor easier than ever. During J-Term, Fall and Spring terms, the CAC team of Career Advisors offers drop-in, or "express" advising.
Monday-Thursday, staff members will be available for career-related questions, such as resume writing, interview tips, etc., from 11 a.m.-1 p.m. You can join any week, but in case you are looking to meet with your Career Advisor or the advisor for your Pathway, a detailed schedule is below.
Monday: Jennifer Lazarus, Law and Public Service
Tuesday: Danielle Kelly, Creative Arts and Communication
Wednesday: Marie Josephitis/Albert Greene, Business, Finance, and Data Science
Thursday: Ben Rohde/Kathi Ferrero, Science and Health Care
Drop in to Express Advising in the student center any time between 11a.m.-1p.m. CT Monday-Thursday!
As always, you can still set up a 30-minute appointment with your Career Advisor on Handshake or by contacting the CAC directly (by email careers@lakeforest.edu or by phone 847-735-5235). Connect with us today and start planning for your future success!
*Schedule an appointment with your Career Advisor or Internship Specialist via Handshake. Need help scheduling an appointment? View the Handshake Help Page here.