Psychology students sweep competition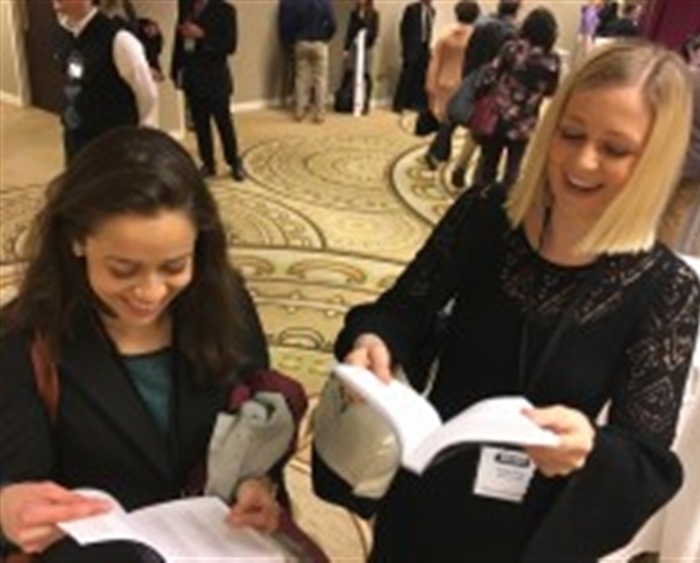 Both Maggie Kroeger '18 and Daniela Olmos Alvarez '18 took the Midwestern Psychological Association (MPA) by storm when they won first and second place in the poster presentations.
The Foresters swept the poster competition for Division 27 at the MPA's 90th annual meeting in Chicago, April 12–14. In all, there were a thousand research presentations across a broad range of disciplines presented.
"We got to share our research with very intelligent psychologists and receive insightful comments. We were both proud of the work we produced, but we never expected to win. That was an incredible honor," Kroeger said.
Kroeger and Olmos Alvarez edged out students from DePaul University, the University of Illinois at Chicago, National Louis University, Andrews University, Bowling Green State, and many others.
Kroeger's poster, which covered her senior thesis, "Rape Culture and Perceived Victim Responsibility, Control, and Distress in Verbally Coercive Situations," examined how macrosystemic beliefs affect the perception of sexual situations where verbal sexual coercion occurs.
"Having your work recognized is the greatest feeling, especially when you've put so much time and effort into it," she said. Kroeger hopes to pursue graduate school and focus her graduate thesis on the same area of research.
Olmos Alvarez, an international student from Venezuela, created a poster focused on her independent research project, "¿Quien Decide? Gender, Power, Culture, and Birth Control Decisions." Her project looked at the interplay of culture, power, adherence to the gender role constructs of machismo and marianismo, and the decision-making process regarding the use of contraception methods.
"Coming into the conference, I was mostly interested in being able to show others my areas of interest and discuss my work," Olmos Alvarez said. "But after a lot of time and effort, celebrating our win felt very rewarding."
Associate Professor of Psychology Susan Long believes the Foresters' work resonated well with judges because both students' original research reflect important issues in community psychology.
"I'm delighted that their contributions were recognized with these prizes, but even more proud of their intelligent contributions to the field of psychology. Their projects have real world implications to improve the lives of young adults," Long said.