Education journal Paedagogia publishes second volume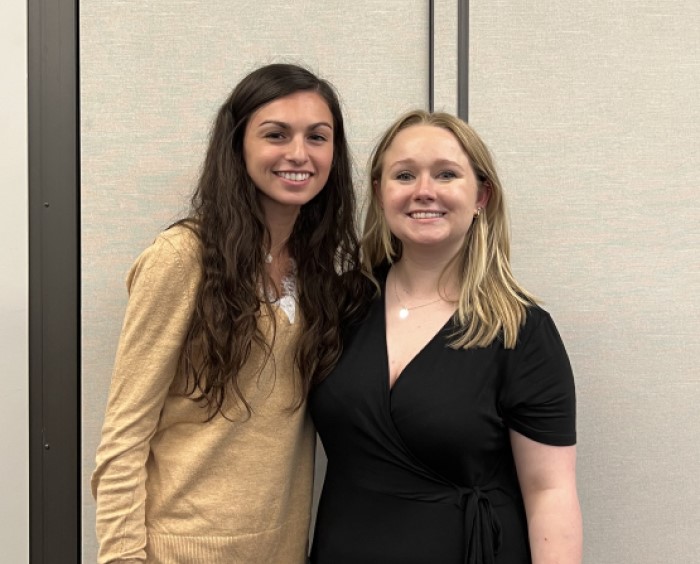 Paedagogia, a scholarly journal edited and published by students in Lake Forest College's Department of Education and Master of Arts in Teaching (MAT) program, released its second volume on April 27.
The journal aims to provide a platform for education professionals to "share ideas and collaborate on practice-based research in the pursuit of excellence in teaching and learning," according to the journal's webpage.
The journal's inaugural issue was released in 2021. The editorial board is made up of graduate students in the MAT program. Audrey Paglia, who finished her Bachelor of Arts in Spanish with a minor in history in 2021 and is about to graduate with her MAT, and Amanda Forshey '21, who will also graduate with her MAT this spring, make up the editorial leadership.
"The papers that we publish within the journal are mostly action research papers from graduate students before us," Paglia explained. "We do accept a couple of student papers from professors who recommend them, and we also accept a few faculty papers from Lake Forest College professors and beyond."
According to the journal's webpage, "[t]he goal of Paedagogia is to encourage teacher candidates and professional educators to exercise their role as producers of knowledge in the contexts of their practice, and to advance student success by sharing their knowledge with the professional communities."
The journal considers manuscripts engaging with pedagogical issues from education licensure candidates, teachers, administrators, and education professional at all levels.
Paedagogia was started when Chair of Education Desmond Odugu saw the creation of a journal as an opportunity to share and celebrate the great research and writing the graduate students and education students were completing.
" Paedagogia is the product of necessity; there are very few practitioner-oriented scholarly journals where teachers and teacher candidates share ideas resulting from their ongoing inquiries in their own learning communities," Odugu said. "Moreover, it would be a lost opportunity for our candidates to pursue these probing questions and generate the brilliant insights that characterize their action research projects only for it to end up on my desk. So, in addition to providing a platform for disseminating these findings, the hope is that Paedagogia will instigate a culture of action research and peer engagement through publishing in Paedagogia."
The process of editing and publishing provided a new experience and perspective for Paglia and others on the editorial board. "It's a pretty long process," Paglia said. "Last May, we started gathering all of the action research projects from the year before us. From there, we start deciding which manuscripts should continue in the process. Once we had a handful of manuscripts that we felt would be a good match for this journal, we started reaching out to external reviewers, which is in itself a long process."
The editorial board worked on selecting, editing, coordinating reviews, and preparing the manuscript for printing. Overall, however, Paglia found the process to be rewarding.
"Working with authors who are passionate about the research they've done was exciting," she said. "It's cool to work with other researchers in my field and learn so much from others. It was great to see this year of work on paper. I am so grateful that I got the opportunity to work closely with Amanda Forshey and all the authors."
Each year, the editorial board changes to welcome a new class of MAT students.
Paglia, who plans to move to Florida after graduation and teach at a private school, looks forward to seeing how the journal continues to evolve and take shape in the future. "I can't wait to look back in a couple of years to see how Paedagogia has grown."
Related links