Economics Business and Finance
Yipeng Hu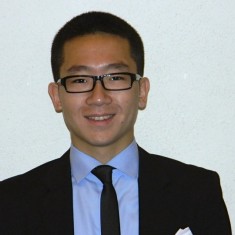 Class Year
2014
Area(s) of Study
Finance Major and French Major
Hometown
Shijiazhuang, Hebei Province, China
Co-curricular
West-African drumming, choir lessons, member of the Cross Country team, and worked at the College's theater department as a student-technician with a focus on carpentry
Internships
Evo-Technology Ltd., China, Corporate Finance Intern
Alternative Energy Solutions, Chicago, Marketing Intern
Vista Medical Solutions, Chicago, Marketing Intern
Association of American Residents Overseas, Paris, Corporate Finance Intern
Current Job
Financial Analyst at Jupai Holdings, Ltd.
Yipeng Hu '14 was a finance and French double-major who took full advantage of the opportunities at Lake Forest College.
During his time here, Yipeng completed four internships and was active in several clubs.
Today, Yipeng is a financial analyst in Jupai Holdings, Ltd. – Hong Kong branch, a Chinese based, NYSE-listed company in the private wealth-management industry
"I am truly proud of the global competency that I have gained through my academic concentrations in finance and French, professional experience from internships in various industries and international locations, as well as hands-on interactions in different cultures."
How did you choose your area of study?
I double-majored in finance and French, where finance has always been my passion as a career arena and French as my strong interest in language and cultural diversity.