Modern Languages and Literatures
Malia Ogawa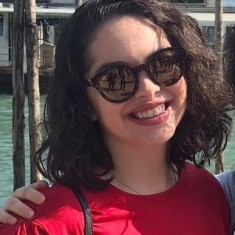 Class Year
2015
Area(s) of Study
French and History
Hometown
Seattle, WA
Internships
Historical Asociation in Paris
Achievements
TAPIF (Teaching Assistant Program in France
Graduate Study
MA, History, King's College, London, England
Current Job
Employer – Zulilly (Seattle, WA) · Position – Production Copywriter Previous Employers – French government
How did you choose your area of study?
I followed my two strongest academic interests, French language, culture and History, and pursued opportunities for study and interning as well as post-graduate work and study opportunities to combine them and continue to develop these interests. This has been very enriching for me.
What did you think of the faculty?
My major in French prepared me to study and work in Paris, and my history major prepared me for the internship and inspired me to complete a master's degree in history in Europe.
More information to share?
How did the Department of Modern Languages, other department, Career Advancement Center and/or the Forester community give you an edge on taking your first steps after graduation?
I received strong recommendation letters which enabled me to pursue both the TAPIF and the Master's in History. The faculty have always supported my efforts to pursue what I love.