Modern Languages and Literatures
Mahir Mameledzija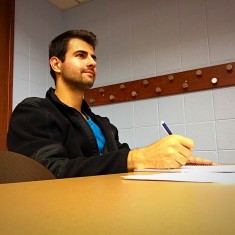 Class Year
2014
Area(s) of Study
Spanish and chemistry
Hometown
Skokie, Illinois
Co-curricular
Soccer
Internships
Northwestern University Aphasia Lab
Graduate Study
Accelerated MBA, University of Illinois-Chicago Currently studying at The Medical College of Wisconsin at Milwaukee 
Current Job
Researcher at Earnestine Willis MD
How did you choose your area of study?
I had an extreme passion for languages, in particular the Spanish language stood out for me because of its worldwide understanding.
What did you think of the faculty?
The faculty were extremely passionate about their students and the courses were always geared towards challenging the students to think beyond.
More information to share?