Modern Languages and Literatures
Jonas Mikolich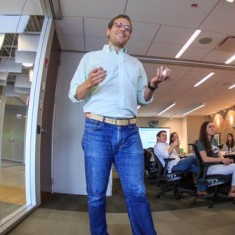 Class Year
2011
Area(s) of Study
Spanish and economics
Hometown
East Greenwich, Rhode Island
Co-curricular
Vice President of Student Government, ultimate frisbee, water polo
Internships
Rolling Stone Magazine, ULINE shipping supplies
Current Job
Operations at Coyote Logistics, Chicago
Jonas Mikolich uses his bachelor's degree in Spanish and economics to work with the Mexico operations team at Coyote Logistics in Chicago.
How did you choose your area of study?
"The Department of Modern Languages and Literatures exposed us to literature, music and theater, expanding our familiarity of a language from textbook structure of basic communication skills to learning how Spanish, Latin American and Latino/a writers, poets and playwrights use a language to bring further life, color, and emotion to their words and text. 
"Learning a second language is extremely valuable in a work setting. It's a matter of not only learning the language, but the culture, which plays heavily into the way people communicate. A cultural understanding is necessary in order to achieve success with any transportation partner in Latin America or Spain."
More information to share?
At Coyote Logistics, "We facilitate the growth in volume of our Mexico freight, the day to day operations, and the long term solutions to the pain points in our customers' supply chains," Mikolich says. "Everything from automotive parts going into production, chemicals and plastics, to food and beverage."