English and Creative Writing
Geoff Curtis '97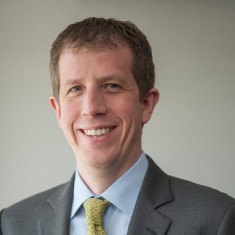 Class Year
1997
Area(s) of Study
English
Current Job
Group Vice President, Corporate Communications at Horizon Pharma
I'm currently group vice president of corporate communications at Horizon Pharma plc, a biopharmaceutical company that researches and markets medicines used to treat patients with pain and inflammation and children with rare diseases. I'm responsible for external and internal communications as well as executive visibility. I have been in the public relations and communications field since graduating and during that time worked at several public relations agencies always with a focus on the healthcare/pharmaceutical/biotechnology industries.
How did you choose your area of study?
I came to Lake Forest College knowing that I wanted to write. Since I was a student prior to the implementation of the formal communications major, English with an emphasis in writing seemed like the best fit. I supplemented my major curriculum with internships in publishing and public relations.
How has your English major or study of English helped you in your career? Do you think the skills you developed as an English major helped you obtain a job?  Do you use those skills in your current work?
One skill that has definitely translated to my post-college career is brevity. Writing in public relations, particularly in the healthcare industry, is about concise, understandable message delivery.
Has the study of English impacted your life beyond the job? If so, how?
Studying English, both writing and literature, has provided me with an appreciation for the power of the written word.
What was most enjoyable/memorable about studying English at Lake Forest College?
To this day, the memory that stands out is the English literature class I had with Professor Rosemary Cowler. As part of the class, each student had to schedule an hour meeting with Professor Cowler to recite, from memory, the general prologue of the Canterbury Tales in Middle English. While it was one of the most uncomfortable situations of my college career, it was fascinating to see how much Professor Cowler enjoyed the reading, closing her eyes as if she was transported back to the 14th century, as I stumbled my way through each line.
Do you have any advice for students pursuing English studies?
Absorb everything. Whether reading medieval literature or a post-modern novel, absorb every word. It may seem insignificant or useless at the time, but will likely influence either how you read/comprehend as well as write in the future.