Gabriel Anzeze '23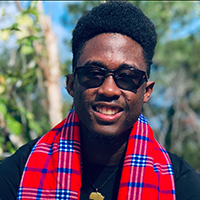 Class Year
2023
Area(s) of Study
Politics and Economics
Hometown
Nairobi, Kenya
High School
UWC Li Po Chun Hong Kong
Co-curricular
President - UMOJA, Gummere Fellow, Black Men's Group, Member - Diversity, Equity, & Inclusion Summit Committee 2021, Member - College Council
What drew you to Lake Forest College?
Lake Forest College has a relatively low population which makes it very promising for a tight-knit community where it's very easy to meet and know people. I have come to see this pass since I now know so many people on the campus be it faculty, staff or students and I made a lot of meaningful friends while at it!
Have you had experiences here—besides your classes—that have helped prepare you for your future?
The Richter Scholar's Program definitely immersed me into the realm of academic research which was particularly useful since I have every intention of going on to graduate school.
What do you do in your free time?
Before the pandemic I spent most of my free time at a boxing gym nearby, but now that that's not happening, I've been reading tonnes of books and enjoying every bit of it.
What are your plans after graduation?
I plan on going to graduate school hopefully through a PhD program in Political Economy after which I intend on going back home to Kenya to work but also to teach at a University.
Any advice for new Foresters?
Take all sorts of random courses in your first semester! You might discover interests you never knew you had!
What has been your favorite memory at Lake Forest College?
I've had plenty of amazing memories, but if I had to pick one, it would be this past summer when I would go to the beach every weekend at 6am and it was absolutely breath-taking every single time!