English and Creative Writing
Chris Shirley '07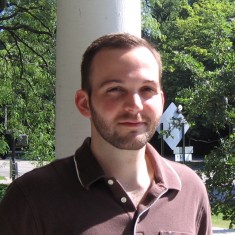 Class Year
2007
Achievements
2012 Fulbright Scholar
Winner of the All-College Writing Contest for two consecutive years
Current Job
Visiting Assistant Professor of English at Northwestern University
On the value of an English degree from Lake Forest College:
I'm currently pursuing a PhD in English from Northwestern University. I credit the close personal relationships I had with my professors and their helping me to explore ideas and to develop strong critical thinking abilities for the success I've had after graduating from Lake Forest. 
About the English professors:
Because of the close contact I had with my professors at Lake Forest, I was able to follow lines of thought that interested me, sometimes in unusual directions, and that individualized education prepared me well for an academic career. My professors at Lake Forest still serve as models for my own teaching. 
On the overall Lake Forest experience:
The opportunities I had to engage in student leadership outside the classroom also provided me with experience in contributing to the functioning of a complex institution and helped me formulate the ethical positions and moral values that guide me now. All in all, it's hard for me to imagine getting a better education than I got at Lake Forest.