Undergrads' research in Yale Journal of Biology and Medicine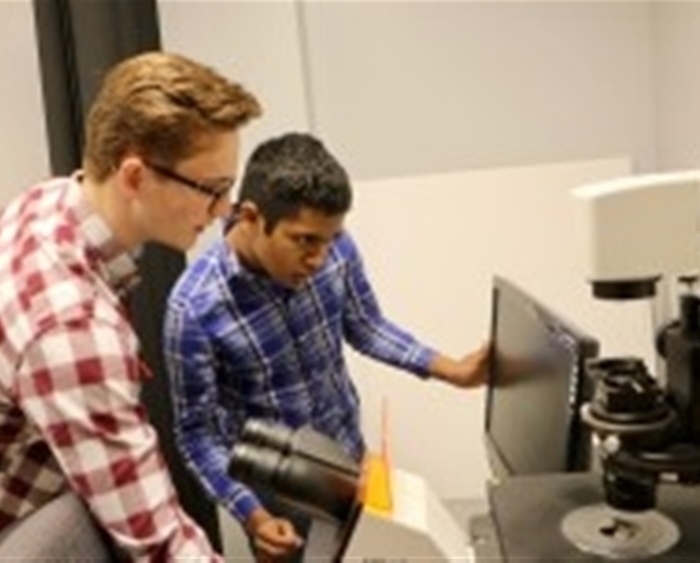 With the publication of their paper "Algal Bloom Expansion Increases Cyanotoxin Risk in Food" in the Yale Journal of Biology and Medicine, rising juniors Niam Abeysiriwardena '20 and Sam Gascoigne '20 became published first-authors and co-authors, respectively.
Abeysiriwardena and Gascoigne started collaborating on the paper during the fall semester of the 2017-2018 academic year. Working with Dr. Angela Anandappa, the Founding Director for the Alliance for Advanced Sanitation and a Research Assistant Professor with the Department of Food Science and Technology at the University of Nebraska-Lincoln.
The findings of their paper show how nitrogen and phosphorous entering the water and rising ocean temperatures create and augment algal blooms, which produces toxins. These toxins can get into fish and crops through the water, which can affect humans through consumption, contributing to a lot of short-term and long-term illnesses.
Abeysiriwardena began taking interest in neurological diseases and their effects in high school. "I went to Paul Allen Cox's presentation at the college in November 2015 during the College's annual Brain Awareness Week events where Dr. Cox gave the Keynote Lecture, and it brought to my attention that hidden causes can affect the course of neurological diseases," he said. "The link to cyanotoxins inspired me to look further into the topic and to research the cause and effect relating to disease."
In addition to the lab work, data analysis, and research that played into the production of this paper, Gascoigne said that "this experience has definitely given me insight to the writing portion of research I had not previously been exposed." Abeysiriwardena said that he has "learned a great deal about how policy interacts with science, as well as how to connect different layers of a topic."
Both Abeysiriwardena and Gascoigne were selected for the Richter Scholar program last year and they conducted undergraduate research with Disque D. and Carol Gram Deane Professor of Biological Sciences Shubhik DebBurman and Associate Professor of Biology Alex Shingleton, respectively.