Two juniors named 2019 Goldwater Scholars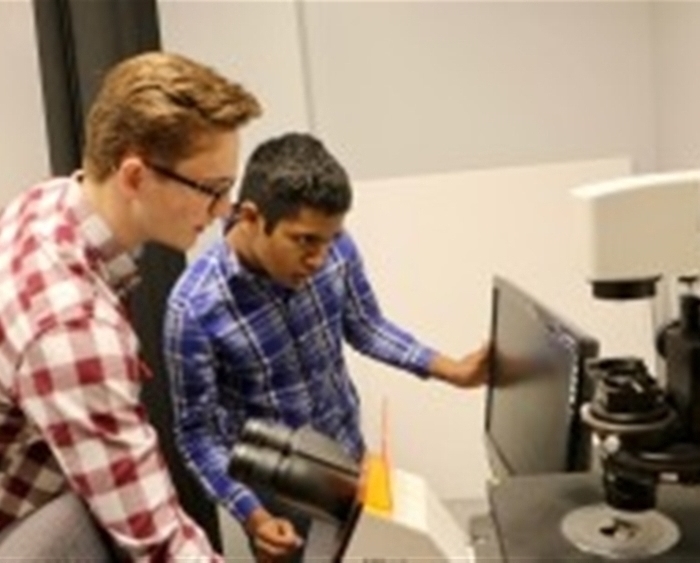 Niam Abeysiriwardena '20 and Samuel Gascoigne '20 have been awarded prestigious Goldwater Scholarships, annual awards for outstanding undergraduates interested in careers in mathematics, the natural sciences, or engineering.
Abeysiriwardena, a neuroscience and computer science double major from Northbrook, Illinois, is also pursuing a minor in legal studies. He recently won a national Parkinson's disease research grant.
Gascoigne, a neuroscience and biology double major, is from Deerfield, Illinois.
This isn't the first time these two student-researchers and friends made headlines. Last summer, a research paper they wrote was published in the Yale Journal of Biology and Medicine.

Abeysiriwardena plans to pursue an MD-PhD in neuroscience after completing his undergraduate studies. "I am interested in biomedical research and clinical work," he said. "I wish to pursue a career in medicine focused on finding therapies to treat neurological disorders and heal patients."
Disque D. and Carol Gram Deane Professor of Biological Sciences Shubhik DebBurman is not surprised Abeysiriwardena was recognized with a Goldman Scholarship. DebBurman speaks of Abeysiriwardena's "exceptional and prolific research record amassed through three quite different areas of inquiry mentored by scientists at different institutions, on Parkinson's Disease at Lake Forest College, neural network and modeling at Northwestern University, and quantitative public health analysis at Univesity of Nebraska Lincoln," he said.
Gascoigne is planning to pursue his PhD after completing his undergraduate studies. "My ultimate professional goals include becoming a full-time professor in an integrative field of biology and having my own lab to perform novel research," he said.
"Sam is a phenomenal scholar," said Assistant Professor of Biology Flavia Barbosa. "The research project he wrote addresses some fundamental questions in evolutionary biology and I expect him to make an important contribution to this field. This is a much-deserved award."
DebBurman said Lake Forest's "research-rich science curriculum fosters early and deep access to original research for all our students within a highly collaborative peer-learning community. Niam and Sam's Goldwater success is a particularly dramatic and visible example of this thriving learning community with a long history of postgraduate outcomes by student researchers."
Goldwater Scholarships cover tuition, fees, room and board up to a maximum of $7,500 per year. The Foresters are two of 496 scholarship winners selected from a field of 1,223 students nationwide.
This is the second year in a row that Lake Forest College students have earned the award from the Goldwater Foundation. In 2018, Jeanne McDonald '19, a biology major, was the first Forester to win the scholarship named for statesman Barry Goldwater, which is among the most competitive honors in the country for undergraduates in the sciences, mathematics, and engineering. The goal of the Goldwater Scholarships is to support college sophomores and juniors who show exceptional promise of becoming the nation's next generation of research leaders in those fields.
Related Links: