Modern Languages and Literatures
The 17th U.S. Midwest College Chinese Speech Contest was a Great Success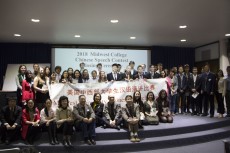 On Saturday April 21, 2018, the Lake Forest College Modern Languages and Literatures Department had the honor of hosting this year's Midwest College Chinese Speech Contest.
Prof. Ying Wu from the Modern Languages and Literatures Department was the chair of the organizational committee. This contest gives Chinese learning students the chance to demonstrate their Chinese speaking abilities, as well as give students the chance to travel to China for a famous, national competition. At this contest, more than 30 participants delivered a 3 to 5 minute speech and presented a Chinese cultural talent.
There were six competition levels: 1st year language students, 2nd year language students, 3rd year language students, 4th year language students, 1st and 2nd year heritage students, and 3rd and higher heritage students. In all, over 80 people were in attendance, with 11 different Midwest schools participating.
Prof. Shiwei Chen, chair of Asian Studies, delivered the welcoming remarks. Ms. Min Chen, Education Section Consul, Consulate General of Peoples' Republic of China in Chicago, later began the opening ceremonies with words of encouragement. At the annual banquet, held at the Education Facility of the Chinese Consulate General, Consulate General, Mr. Hong Lei, delivered a very inspirational speech. In addition, Deputy Consulate General, Mr. Liu Jun was in attendance along with other members of the Consulate.
Overall, this event was a huge success, and it truly was an honor that Lake Forest College was able to host the event.