Environmental Justice After the Red Summer: Race and Space in Chicagoland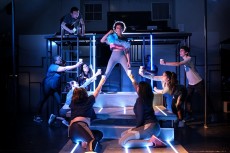 Over 100 students attended this Humanities 2020 sponsored event featuring Free Street Theater and an environmental justice panel with racial and environment activists from Chicagoland.
OCTOBER 11, 2019 • 1:00PM–5:30PM  
The so-called "Red Summer" of 1919 saw race riots in dozens of American cities. In Chicago, violence erupted after Eugene Williams, an African American teenager, was killed by a white man at a segregated South Side beach. In commemoration of the centenary of this key event in the history of race, segregation, and contested public space in Chicago, Lake Forest College's Humanities 2020 presents a program exploring how people of color and the region's environmental justice movements continue to grapple with contested urban space in the 21st century.
 Panelists:
Katrina Dion, Free Street Theater
Anton Seals, Grow Greater Englewood
Eileen Shanley-Roberts, Clean Power Lake County
Edith Tovar, Little Village Environmental Justice Organization