DebBurman earns Career Achievement Award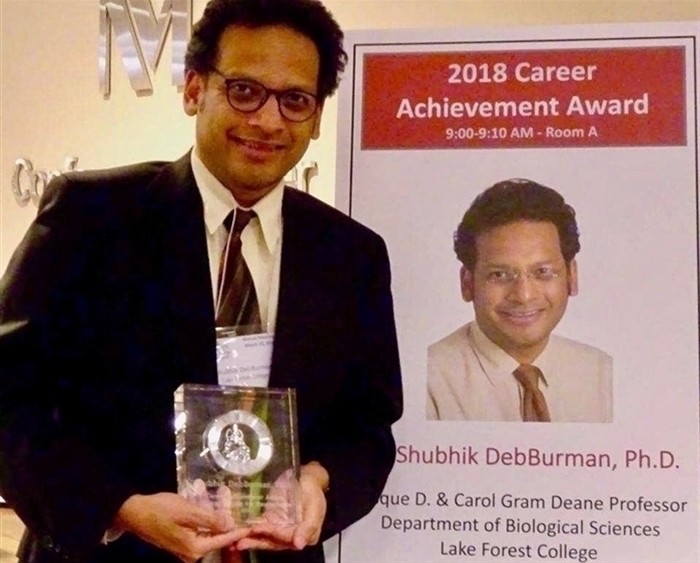 At the 2018 Chicago Society for Neuroscience Meeting, Disque D. and Carol Gram Deane Professor of Biological Sciences Shubhik DebBurman was awarded the Chicago Society for Neuroscience Career Achievement Award for his outstanding contributions to neuroscience education.
"I feel incredibly honored and deeply humbled by this unexpected recognition from my Chicago area peers and from a professional organization that I first became a member of in 1994 and have strongly supported ever since," said DebBurman. "Given the depth and rich quality of neuroscience leadership in the Chicago area, I am particularly gratified that a faculty member from a non-medical school or research university was chosen."
The Chicago Society for Neuroscience honored DebBurman not just because of his numerous scientific publications but also because of his dedication to educating future generations of scientists. In addition to conducting science outreach with nearly 500 elementary school children, DebBurman has mentored over 240 Lake Forest College undergraduate students and served as chair on over 40 Senior Thesis Committees. Numerous students have gone on to earn advanced degrees in the Chicago Area, many of whom received prestigious grants and awards.
"We are incredibly proud of Dr. DebBurman," says Neuroscience Program Chair and Professor of Psychology Matthew Kelley. "He has been a tireless ambassador for neuroscience at local, regional, and national levels. I can think of no one who better exemplifies all that is good about neuroscience and I can think of no one more deserving of this award."
DebBurman has been an extremely active member of the Chicago Society for Neuroscience over the years. His involvement has included serving as President (2013-15), initiating the undergraduate poster competition and several mentoring and career development initiatives, and developing the Career Achievement Award.
The 2018 Chicago Society for Neuroscience Meeting was held Friday, March 23 at Northwestern Memorial Hospital.