Winners selected in Venture Design Challenge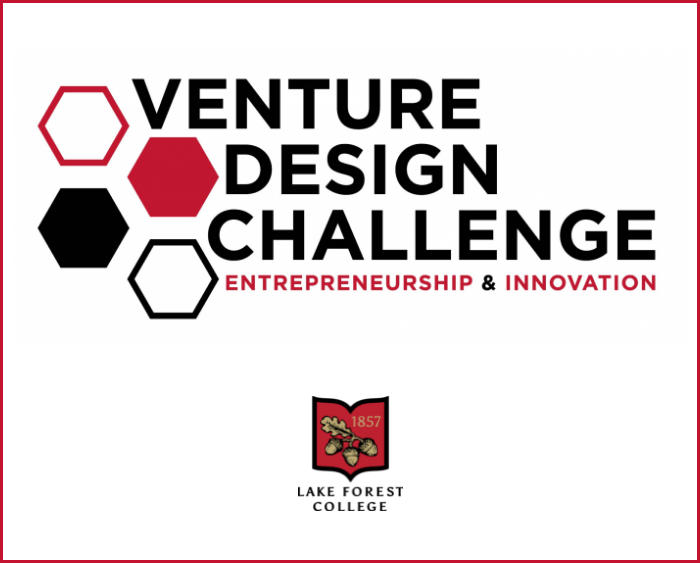 The 2021 Venture Design Challenge featured winning student business ideas that ranged from a smartphone diet app to an anti-fog product for eyeglasses.
The Venture Design Challenge is a campus-wide pitch competition that provides a forum for Lake Forest College students to identify problems worth solving and mobilize the people, resources, and networks to solve them. The 2021 competition was the first held virtually.
"The Venture Design Challenge introduced me to many fascinating people and opportunities," said Audrey Shirtz '21. "Witnessing all of the entrepreneurial components we've learned over the years come together has created an unforgettable experience."
Shirtz worked with Manisha Kumar '21 on Optical Inclusion, named Best Investment in the annual competition.
"I enjoyed working as a team and receiving guidance and feedback from our mentor to shape our pitch," Kumar said. "I also enjoyed meeting the judges, learning about their background, and presenting."
The 2021 winners, as determined by a panel of judges representing local businesses and entrepreneurial endeavors, are:
Best Pitch:
Winner: Christine Hanna '21 with MyBody, a personalized diet based on a smartphone BAI app. People who strive to achieve their fitness goals need a personalized diet and exercise plan that's based on their body composition, because people struggle to achieve results.
Runner-up: Thomas Anderson '21, Jay Patel '21, and Molly Gniady '21 with SES Labs, a better delivery system for young adults who take workout supplements to replace the traditional powder form that is too time-consuming and messy for busy individuals.

Best Venture Idea:
Winner: Alec Brent '21 and Eoghan Kelly '21 with REPS Sports Networking, an affordable networking platform for amateur athletics that connects all related parties of the sporting community to enhance the college recruiting process.
Runner-up: Dylan Petrou '21 and Elias Kraus '21 with TOP*, a way to create meaningful connections on social media to maximizes users' valuable time.
Best Investment:
Winner: Audrey Shirtz '21 and Manisha Kumar '21 with Optical Inclusion, helping people who wear glasses prevent fogging, which is inconvenient and can be a safety issue.​
Runner-up: Tyranny Miller '21 and Aidan Burke '21 with TunesU, a way for musicians to collaborate, create, and edit new music separately, because sharing and collaborating from a distance has been a conflict among artists.
* Audience award-winner for Best Pitch.
Entrepreneurship and Innovation Program Executive Director Kate Jackson said the competition was "the culmination of a process that started many months ago. Over the course of the semester, our students worked with faculty and mentors to hone their new venture and their business model."
The mentors who worked with and helped guide the student teams were: Cheryl Ashley, Brandon Berish '20, Alice Boswell, Brian Bowen, Kristin Globell, Kris Jennings, and John McDonough.
This year's semi-final judges were: Addie Gundry, founder of Pluie; Karen Jones, president and CEO of Chocolate Chips Association; and retired Abbott chemist; Maureen Tart, partner at OB/GYNE Associates of Lake Forest, Ltd.
The finals judges were: Haley Combs, program lead at the Nashville Entrepreneur Center; Shipra Larson, executive director of product management at The Walt Disney Company; Evan Malone, financial advisor at RBC Wealth Management; and Sara Toussaint, vice president of sports sponsorships at Wells Fargo.
"We also owe a debt of gratitude to the Entrepreneurship Advisory Council for their continued support of the program and the pitch competition," Jackson said.