Vivian Ta and students present at Midwestern Psychological Association Conference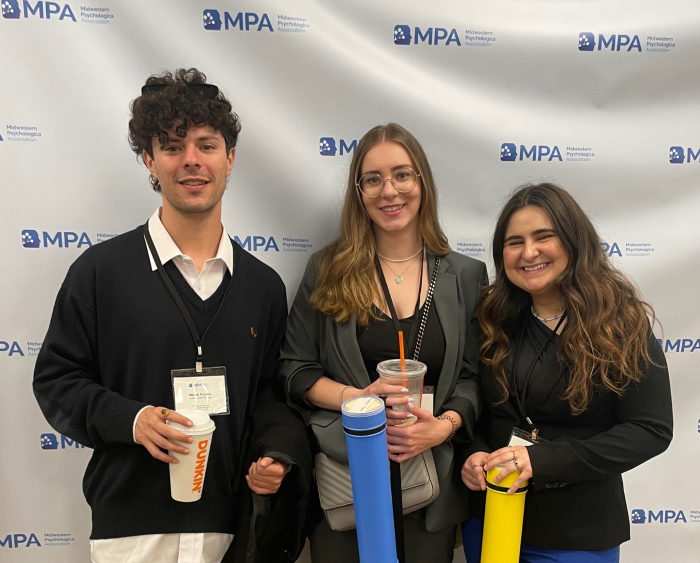 Assistant Professor of Psychology Vivian Ta brought several students to the 95th Annual Midwestern Psychological Association Conference at the Palmer House in Chicago April 20-23.
Ta brought several of her research assistants to the conference: Ceanna Loberg '23, Lauren Wright '23, Matias Fonolla '23, and Amelie Motzer '24.
Loberg presented a poster titled "Police Expertise in Use-of-Force Rapid Decision-Making."
"Presenting my research allowed me to open up the conversation of police brutality and potential problems in institutional organizations," Loberg said. "These conversations allowed me to ask further questions and inquire about other aspects of the psychology discipline that could inform the world. It was also so energizing to be around a bunch of people all interested in pursuing research who share my goals and passions."
Motzer presented a poster titled "Linguistic Markers of the Dark Triad: A Systematic Review."
"Presenting at MPA was a great opportunity to network, and I met a graduate student who recommended that I reach out to a professor who is researching the same topic I studied, but in children," Motzer said. "Conferences are a great opportunity for exchange and networking, but it also assured me that I want to continue doing research once I graduate from Lake Forest College."
Ta gave an invited talk titled "Use-of-Force Rapid Decision Making Across Less-Experienced and Experienced Police Officers." Wright and Fonolla presented a poster titled "Assessing the Relative Importance of Procedural Justice Components in Police-Community Interactions."
"Events like these are a great opportunity for our students to meet other students who are studying psychology at other institutions," Ta said. "Being able to connect outside of Lake Forest provides a stronger network and support system. Plus, they get to meet faculty they may want to work with in graduate programs and benefit from being exposed to areas of research I don't conduct."
Ta also added that presenting research at conferences is a valuable experience for undergraduates as they get to practice presentation skills and share their research with the wider psychology community.
Related links