Students volunteer on COVID front line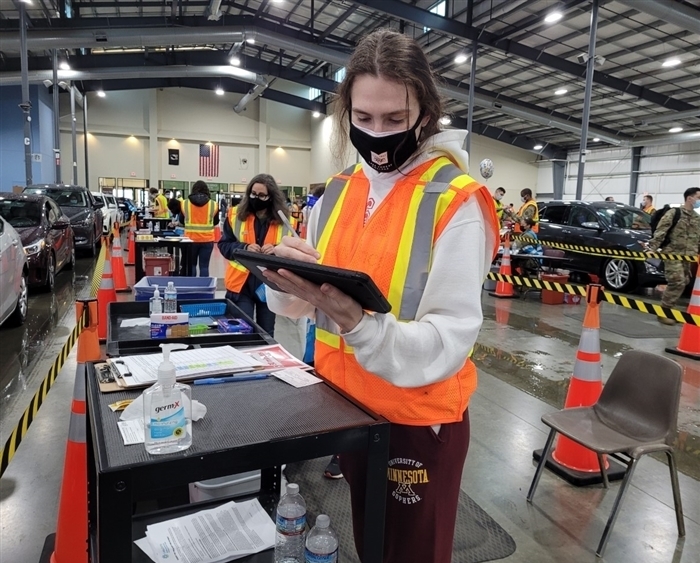 More than a dozen students are giving back to the community by devoting their free time to help out at the Lake County Health Department's mass COVID-19 vaccination site.
The students, who were selected to do research at Rosalind Franklin University of Medicine and Science this summer, were eager to do their part in this global health crisis.
"Little things do make the biggest difference," said volunteer Katrina Topacio '22, a biology and neuroscience double-major who is on the pre-med track at Lake Forest College. "Having personally experienced loss during the early days of the pandemic, it was particularly meaningful for me to dedicate what I could to helping other families feel safe by getting vaccinated."
Giving up four Saturdays and Sundays working as an indoor computer screener or runner was a small price to pay to help vaccinate an average of 1,500 people each day.
"My favorite part of the day is when we wave goodbye to the patients after they've been vaccinated, because you can clearly see the gratitude in their eyes," she said. "The nurses and volunteers in my lane all cheer and clap as the patients drive away. I feel the deepest sense of fulfilment."
International student Sadiq W. Dabire '22 views volunteering as a sense of duty.
"Since the beginning of the pandemic, I noticed a lot of pressure on health care workers and I felt the need to get involved," he said.
A major in biochemistry and molecular biology and minor in economics, Dabire started as a screener and rose to the level of floater. In this role, he circulates among the new recruits at the busy site answering questions and offering guidance.
"I see this as a good opportunity to connect with the community—the Lake County community—and to get some off-campus experience working with patients and interacting with health professionals," Dabire said.
Distanced from others since the pandemic began, Nila Dilosa '23 finds the social interaction at the clinic especially gratifying.
"The most enjoyable part for me has been getting to make unique conversations with many different patients," she said. "I'm a very family-oriented and social person, so being cooped up inside most days not speaking to other people regularly has been hard."
A neuroscience major and psychology minor, Dilosa is grateful for the opportunity to work alongside health care professionals on a global issue.
"It feels good to know I'm filling needs and doing my part in something bigger than myself," she said.
Photos supplied by Katrina Topacio '22