Students select business attire at free, on-campus Career Closet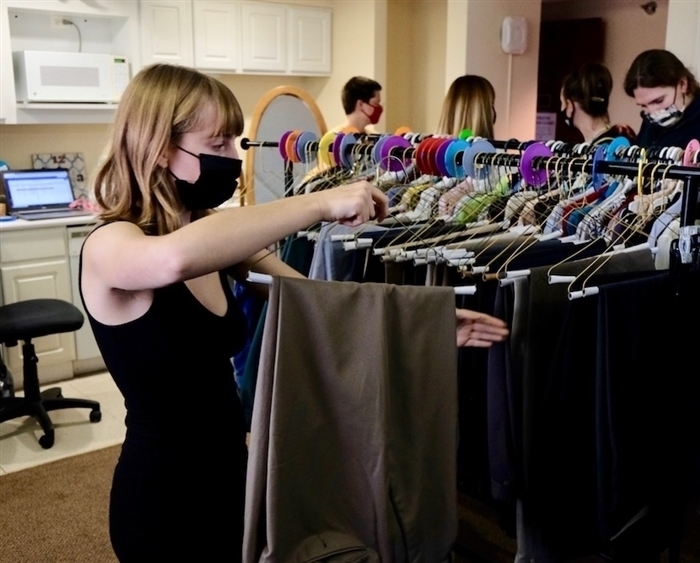 Sydni Foley '22 hopes more students check out the on-campus Forester Career Closet after helping to relaunch the service last fall.
As a Gorter Family Career Advancement Center (CAC) ambassador, Foley took the initiative to re-organize the South Campus shop, where students can select free business clothing for interviews, networking events, and internships.
The psychology major, who has an interest in fashion, spent the first month of the fall semester revamping the Closet, located in Roberts Hall 100, going through the inventory of shirts, dresses, skirts, blazers, suits, sweaters, trousers, shoes, and accessories to set up for the relaunch.
"When we opened, it was great to see people find amazing pieces that they fell in love with," Foley said.
Danielle Kelly, the CAC team member leading the initiative, has been instrumental in the operation of the Career Closet in the last few years and mentored Foley on the relaunch.
"The Forester Career Closet is an important part of how we support our students," Kelly said. "We want them to feel fantastic inside and out. Thanks to generous donations from the Lake Forest College community, students have access to professional attire so that they feel prepared and confident in any business setting."
Foley is passionate about the project, which she considers to be an empowering resource on campus.
"As college students, we are transitioning from this space—a college campus—to the professional field, which a lot of times requires specific attire," she said.
Not having the right clothes or shoes can affect a student's comfort level when entering professional spaces. The Career Closet offers a convenient and cost-effective solution: "Students can take and keep up to five items per semester, for free, regardless of income. It is also completely gender neutral and size inclusive," she said.
Foley also notes another important aspect of shopping at the Career Closet: "It's sustainable. We're recycling clothes—most of them donated locally—and giving them a second life," she said.
As an added bonus, students also can get their professional headshot taken for a LinkedIn or Handshake profile after they find their new business clothes.
The clothing in the Career Closet is provided from donations by members of the Forester Community. New or gently used professional clothing can be dropped off at Brown Hall 256 or email careers@lakeforest.edu to make other arrangements.
Location: Roberts Hall 100, South Campus
Open Hours: Fridays 1 to 3 p.m.
To arrange an appointment outside of drop-in hours, email careers@lakeforest.edu.