Students make career strides during remote fall semester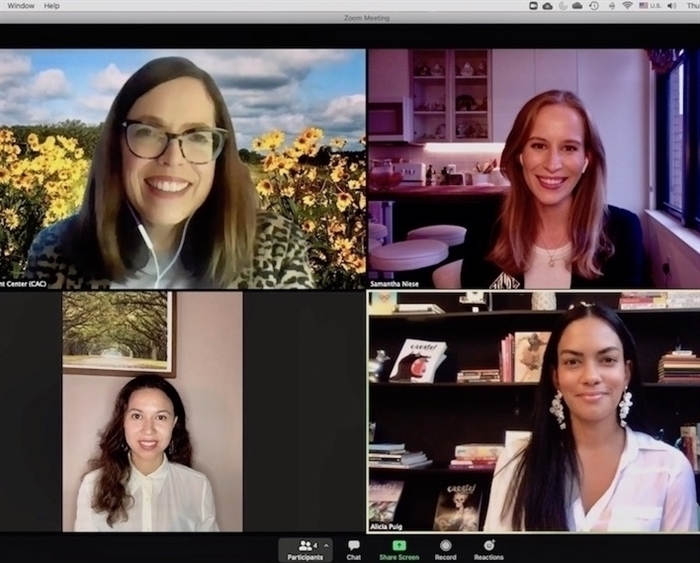 No matter their area of study, students continued to make steady progress toward their career goals during fall 2020, thanks to the work of the Career Advancement Center (CAC) team that keeps things going during the fully remote semester.
The first-ever virtual Speed Networking event, held October 15, 2020, drew 139 students and a record 126 professionals who had 1,112 conversations via Zoom chatrooms.
"We were thrilled by the response we received from our Forester Network and their eagerness to participate in our virtual adaptation of the event. In a year when our students need it most, we were able to host the largest number of professionals we have ever had, and for the first time, bring together professionals and students from across the U.S. and beyond for a night of networking," said CAC Director Colleen Monks.
Margaret Blackstone '22, a double major in music and business, appreciated the longer conversations and larger pool of professionals at her second Speed Networking.
"Since the professionals did not have to come to campus, a larger range of professionals attended the event," said Blackstone, who first participated in Speed Networking in 2019 as a sophomore. "I had the opportunity to speak with professionals from numerous backgrounds, even ones from other countries."
This year's Speed Networking event featured a strong representation of industries across the Career Pathways and, for the first time, five Pathway-specific events that created a sense of community between professionals and students with similar interests.
The event also featured five speakers from the Class of 2020 who shared their path from Lake Forest College to finding success after graduation amidst an unprecedented job market. The speakers were: Ruqia Bibi '20, research assistant at the Shirley Ryan AbilityLab; Nombuso Dlamini '20, account executive at Marcus Evans Group; Hadley Mayse '20, associate recruiter at Signature Consultants; Deja McClellan '20, communications and program coordinator at Mikva Challenge; and Francisco Ramirez '20, carrier sales representative at Echo Global Logistics.
For Michael Drew '21, Speed Networking 2020 confirmed that he made the right decision to transfer to Lake Forest College as a junior in fall 2019.
"I transferred from Cornell College because I knew of the networking connections Lake Forest has within Chicago," the psychology and French double-major said. Attending Speed Networking for the first time opened Drew's eyes to just how deep the College's connections will go to help him achieve his goal of a career in healthcare administration.
"Connections are everything," said Drew, who networked with a number of people in careers he can envision entering. Some of those professionals connected Drew with others in their own network to further cast his net. "It's so important to learn the many different ways people go about reaching their career goals," he said.
Connor Keast '22 hoped to start building his network and, perhaps, make a connection for an internship this summer to align with his biology and environmental studies double major. To prepare, Keast worked with the CAC's Science and Health Care Internship Specialist Jyoti Rao to ensure he would get the most from Speed Networking and to gain valuable insight on finding and landing an internship.
Keast spoke with eight professionals—all of whom shared at least one of his majors—and is now applying for meaningful internships, thanks to connections he either made through Rao, found on his own, or learned about from one of his Speed Networking matchups.
Keast met his Speed Networking goal to "start putting myself out there" in a professional sense. "Going in, I was intimidated to network," he said. "After participating in Speed Networking, I know I can just be myself in these conversations— comfortable, but still professional."
Julianna Crang '21 has been working with CAC Business and Finance Career Pathway Leader Marie Josephitis for the past two years—a partnership that continued through the remote fall semester. With Josephitis' help, the economics major has already landed a career-launching first job as an analyst at Ayco, a Goldman Sachs Company, that she will start after graduation in May.
"Marie has been my lifesaver," Crang said. "She's always been really willing to talk to me and hop on a Zoom call. Knowing those resources are there was super important for me."
Crang also credits advice she received from alumni and other professionals during Speed Networking with helping her ace the interview process, which resulted in two job offers.
"I not only talked to the professionals about how they got to where they are today, they also gave me a lot of great advice about going through the job-search process, figuring out if a company fits with your values—whether you'd ultimately be happy there, and grad school," she said.
Two weeks after Speed Networking, the CAC hosted the panel "Job Search in the Digital Age" on October 29 for current students and new graduates of the College.
"This event was designed to help students gain insight into the virtual job search and discover strategies for finding and landing remote roles, mastering the virtual interview process, and leveraging soft skills to connect in a digital world," said Creative Arts and Communication Pathway Leader and event organizer Danielle Kelly.
Panelists shared tips on how to stand out in a mass of applicants, how they personally have been able to continue networking virtually, and how work at their organizations has changed as they went remote.
"Part of what the digital space takes away is that element of human connection, so add it back in," panelist Cassia Baker '15 advised. If using LinkedIn, for example, use it regularly and "don't be afraid to show your personality," she said.
A double major in international relations and art history, Baker currently works as project manager for OEA Grant Initiatives with the Georgia Department of Economic Development and serves on the CAC's Creative Arts and Communication Pathway Leadership Team.
Classmate Samantha Niese '15, an art history and history double major, advised when applying to an online job portal to always remember to include a cover letter. "Keep it short and sweet, bullet points if you can," she said. "You're trying to make yourself memorable in a good way."
She also recommends doing research before submitting anything. "Figure out who that cover letter is going to," she said. "Some people are hard to track down, but stick with it." That extra effort could help "pull you out of the pile," she said.
Niese earned her master's degree in art history from George Washington University and is currently working at the National Gallery of Art in the Office of Special Events.
For more information on getting or keeping your career planning moving forward, check out the Career Advancement Center website.