Students back 'In The Loop' in College's popular semester-in-the-city program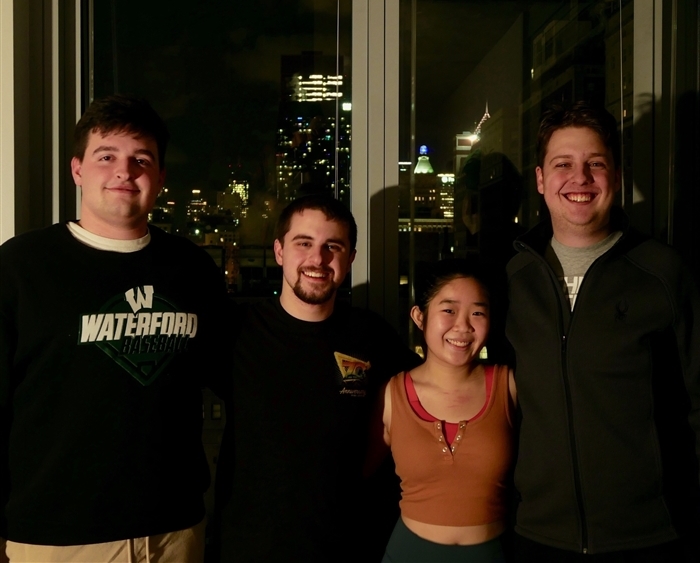 The College's signature In The Loop Program is back this semester with 25 students—mostly seniors—delighted to be living, studying, and interning in Chicago.
Aaron Helms '22 admits to still being awed by the view from his shared 15th-floor apartment. "I had trouble unpacking," he admits. "I just couldn't believe I was actually here."
The opportunity to participate in the residential semester in Chicago "is part of the reason I came to Lake Forest College in the first place" and an experience he did not want to miss, Helms said.
The self-designed film writing and production major is learning how it feels to be on his own, taking film classes at Columbia College Chicago—a private arts college—and working as an editing and blockchain artwork intern at Frey Design Productions in Chicago.
"I definitely think this is going to be one of my favorite experiences of college," he said. "There's not anything I can really compare it to as far as the last three and a half years."
Hira Sadiq '22 appreciates being in the city for many of the same reasons.
"This is the perfect transition to life after graduation," she said. "Simply getting used to dressing professionally for work and navigating the CTA is doing so much for my professional development."
A digital design major, Sadiq is interning as a gallery assistant at Kavi Gupta Gallery, a leading contemporary art gallery based in Chicago.
"Living in the city on my own is giving me the freedom to not limit myself, and open doors to many opportunities and experiences. It definitely is a jumpstart to help me feel more confident in myself for life after graduation," she said.
Related Links: