Student Symposium program released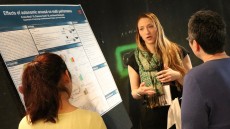 Lake Forest College honors the students selected to participate in the 23rd Annual Student Symposium with the release of the program that would have been used for the daylong event on Tuesday.
The program lists the students selected to participate, the sessions in which they were scheduled to present, and abstracts of their submissions. Please take a moment to review their research and presentations.
While the Symposium was cancelled due to COVID-19, these students join an elite group of Foresters invited to participate in this annual celebration of scholarship and creativity.
The annual Steven Galovich Memorial Student Symposium brings together all members of the Lake Forest College community for a day of scholarly and creative presentations, exhibits, debates, performances, and posters. To be invited to participate in the Lake Forest College Steven Galovich Student Symposium is both an honor and a privilege.
Related Links: