Spring 2022 Leadership Award winners honored at ceremony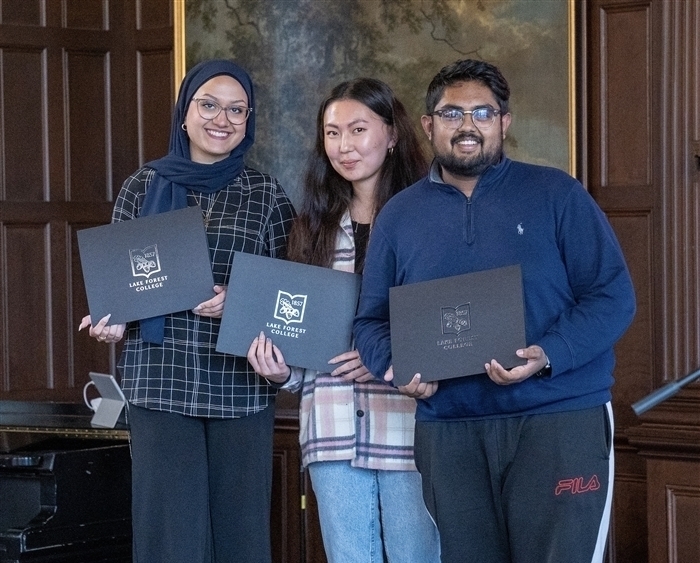 Students and faculty gathered to honor exceptional students for their accomplishments at the annual Student Leadership Awards in the Calvin Durand Lounge on April 25, 2022.
The annual spring Leadership Awards Ceremony honors students, faculty and staff for excellence individually or as student organizations. The honorees are selected by committees made up of faculty, staff and students.
At the ceremony, the following awards were presented:
Edward H. Oppenheimer Memorial Prize: Isabella Nuño '22 and Reneé Gordon '22. Recognizes two seniors who are judged to have contributed the most to the College community.
Alpha Sigma Kappa Class of 1938 Memorial Prize: Carolynn Boatfield '22. Awarded to a senior student who has participated in at least two co-curricular activities on campus and exhibited a strong commitment to community service while a student at the College.
Jacob Wardwell Edwards Prize: Ari Collins '25. Recognizes the outstanding qualities of leadership demonstrated during their first year at the College.
Peter C. Clute Award for Outstanding Character: Enrique Salonga '22. Awarded to student whose uniquely positive attitude and joy in living inspires and enhances the lives of those around him or her. Selected by Lake Forest College Student Affairs staff in consultation with students.
Anita Chen Li '51 International Student Prize: Kaihan Rahimi '22. Awarded to an international student who has exhibited exceptional academic achievements and involvement on campus.
Christopher Mojekwu Award: Professor of Anthropology Holly Swyers. The Christopher C. Mojekwu Fund for Intercultural Understanding was established in 1982 to honor a remarkable member of the Lake Forest College faculty.
Tamara Lee Wefler Award: Zahra Nadeem '22. Awarded annually to the senior whose independent spirit has encouraged the acceptance of a diversity of values and beliefs within the student body whose inspiration and enthusiasm have promoted the highest standards of character and integrity in others, and whose actions have consistently demonstrated a sensitivity for and an interest in the welfare of others.
Make a Difference Award: Blythe Avery May '22. Presented to individuals who have demonstrated a strong commitment to helping others and to community service through outreach, education, and service.
Student Leader of the Year Award: Nada Reffat '22. Presented to a person who, through their leadership skills and initiative, has made a significant impact on the Lake Forest College community over the past academic year and demonstrated examples of outstanding service to others and within the community.
Student Organization President of the Year Award: Kobee Marion '22 (Phi Beta Sigma Fraternity) Award recipients are selected based on visible examples of ethical leadership, a commitment to the growth of the organization and development of its members, and a dedication to helping the organization embody the College's mission.
Rising Star Award: Hawi Odhiambo '25. Presented to a first-year student who has shown tremendous growth over the past academic year and is an emerging leader in the College community, who is an active member of at least one registered student organization, be respected by their peers, and who demonstrates leadership potential at the College.
Community Builder Award: Jamari Tansmore '22. Awarded to an individual who has made outstanding contributions toward building a strong campus community. This student will have been a positive, motivating role model on campus for other students. They will have worked to link fellow Lake Forest College students more closely with the campus fostering a continuous positive environment of the campus community.
Commitment to Student Development Award: Associate Professor of Communication and Chair of Museum Studies Linda Horwitz. Presented to an outstanding faculty or staff member who has fostered an environment of student development throughout the academic year. The recipient will have challenged students to step outside their comfort zone and learn about themselves and the Lake Forest College community through knowledge and understanding. The recipient will have set clear and ambitious standards for students to aspire towards.
Commitment to Campus Well Being Award: Maggie Kersting '22. Recognizes the student who has made the most outstanding contributions to promoting the health and wellness of Lake Forest College students and the campus community.
Outstanding Program of the Year Award: First Aid Club for De-Stress with Therapy Dogs event. Presented to an organization that has facilitated an exemplary on-campus program.
Collaborative Effort of the Year Award: Japanese Cultural Club and United Asia for "Create Your Own Sushi" event. Recognizes an outstanding event or program in which two or more registered student organizations have collaborated.
Social Justice Program of the Year: South Asian Student Association for Chai with SASA. Presented to a student group that has demonstrated their commitment to build upon and advance human relations concerning race, religion, cultural diversity, sexual orientation, socioeconomic background, nationality, gender, or any other area related to social justice through a campus-wide program.
Student Organization of the Year Award: It's on US. Recognizes outstanding contributions to the Lake Forest College community by a registered student organization.