Richter research program connects students with faculty mentors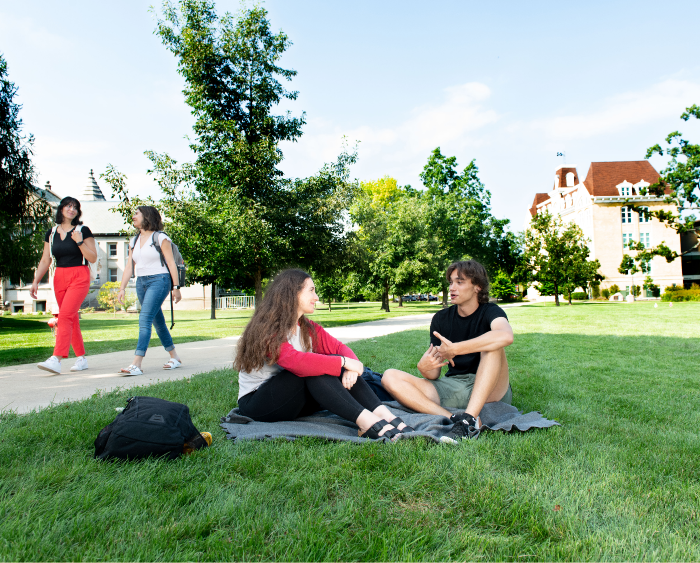 This summer, 40 students will conduct research under the guidance of faculty members through the Richter Scholar Program.
Unique to Lake Forest College, the Richter Scholar Program is an opportunity for qualifying first-year students to research alongside professors throughout the summer. Richter Scholars develop valuable relationships and a deeper understanding of research through their hands-on summer studies.
The program encourages interdisciplinary learning as students from a variety of departments and areas of interest can participate in research. When the program closes with the concluding symposium, students emerge better-prepared for high-level graduate research and careers beyond the College.
The ultimate goal of the Richter program is to foster a strong commitment to intellectual life and to encourage participating students to consider careers in research and teaching. Academically excellent students with an interest in research are invited to apply for the program in the early spring of their first year. Richter Scholars live and work together and participate in a weekly colloquium, becoming a community of peers who provide encouragement and support for one another's research endeavors. The result is a group of scholars motivated to continue their intellectual achievement in the future.
This year's sessions run from May 16 through June 9 with the concluding symposium held on June 9 (Option I) and May 23 through July 14 with the concluding symposium held on July 14 (Option II).
2023 Richter projects:
Option I (May 16-June 9)
K. & H. Montgomery Assistant Professor of History and African American Studies Courtney Joseph: "Black History of Lake Forest College: 1940-1970" with Tabitha Andrews '23 and Eliane Fenita '26
Associate Professor of Education Desmond Odugu: "New Directions in Historiographic Reconsideration of the History of Education in Africa" with Marybel Sacramento '26
Professor of Politics, Chair of Politics, Chair of International Relations James Marquardt: "Leading by Example as a U.S. National Security Strategy" with Emília Fonseca '26, Andrea Sandoval-Torres '26, and Sarah Faller '26
Professor of Chemistry, Chair of Biochemistry and Molecular Biology Jason Cody: "New Instruments for General Chemistry Laboratory" with Jonathan Chao '26 and Sai Gaddam '26
Associate Professor of Finance Nancy Tao: "Environmental Social and Governance (ESG) Investing" Kyla Chevalier '26, Kylie Grebinar '26, and Ian Barbosa '26
Associate Professor of Finance Nancy Tao: "Investigating the Role of Institutional Investors in Online Peer-to-Peer Lending" Zofia Czarnik '26 and Maggie Fields '26
Assistant Professor of English and African American Studies RL Watson: "Black Lives Matter and the Original Court Cases and Reactions" Shellane Shettleworth '26, Armani Alarid '26, and DeJanae Harges '26
Associate Professor of Computer Science Sugata Banerji: "Analyzing Medical Images for Diagnosis" with Edward Aguilar '26
Assistant Professor of French Tessa Sermet: "French and Francophone Feminism" Urvee Singh '26 and Atlas Hampton-Gregory '26
Assistant Professor of French Tessa Sermet: "Ooh la la: French stereotypes in media" Brodie Kaufman '26 and Alice Virani '26
Option II (May 23-July 14)
Associate Professor of Mathematics Arthur Bousquet: "Data 3.0" with Anna Ceslavska '26
Associate Professor of Education Desmond Odugu: "Digital Innovation in Linguistic Practices Education and Development in Multilingual Africa" with Andrew Kame Mpondo Ngango '26 and Fatma Allam '26
Associate Professor of Chemistry Erica Schultz: "Removing Environmentally Persistent Pharmaceuticals from Waste Water" with Anna Garry '26
Professor of Chemistry, Chair of Biochemistry and Molecular Biology Jason Cody: "New Materials from Ionic Liquids" with Gizem Ozturk '26
Professor of Biology Karen Kirk: "Telomere Genetics" with Jose Carlos Hernandez Perussina '26 and Martha Sofia Alatorre Martinez '26
Assistant Professor of Biology Margot Schwalbe: "The Fish Lateral Line System: Hair Cells to Behavior" with Anais Azevedo '26 and Jeremy Levin '26
Assistant Professor of Philosophy Paul Henne: "Why do people judge that actions are more causal than inactions?" with Hoku Canlas '26
Assistant Professor of Biology Rebecca Delventhal: "Molecular mechanisms of injury-induced neurodegeneration" with Doyinsola Ogunshola '26 and Ines Riojas '26
Assistant Professor of Computer Science and Mathematics, Director of the Applied Data Center Sara Jamshidi: "Strategies for Filling Up Your Gas Tank" with Ako Ogihara '26
Disque D. and Carol Gram Deane Professor of Biological Sciences, Chair of Neuroscience Shubhik DebBurman: "Examining the Role of the Family of Synucleins in Neurodegenerative Diseases using Yeast Models" with Holly Kiernan '26 and Leslie Diaz '26
Associate Professor of Computer Science Sugata Banerji: "Artist and Style Recognition from Paintings" with Brian Rivera '26
Assistant Professor of Psychology Vivian Ta: "Assessing Procedural Justice in Police Body-Worn Camera Videos" with Alexandra Gascoigne '26
Assistant Professor of Chemistry William Conrad: "Towards a host based therapy for tuberuclosis" with Alvaro Arroyo '26 and Zoe Danay Draper '26
Related links