New Health Professions Program to transform undergraduate health care preparation, education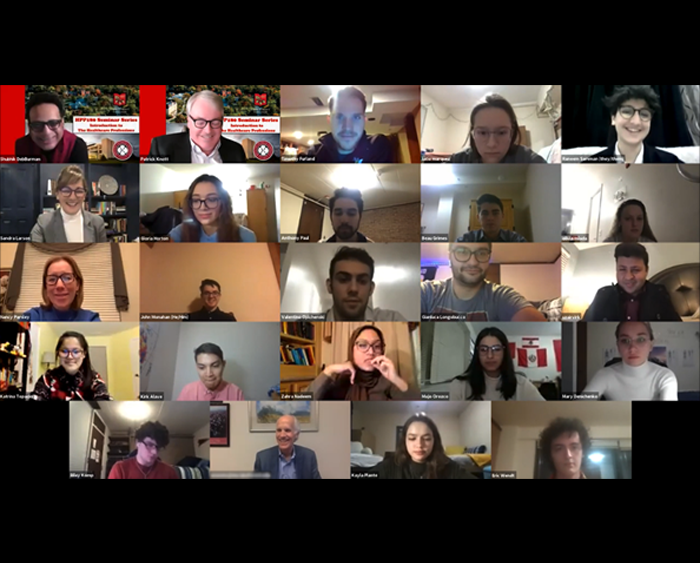 Nearly 200 future health care providers met for the first time on February 3 to kick off the new Health Professions Program (HPP), an innovative partnership between Lake Forest College and North Chicago-based Rosalind Franklin University of Medicine and Science (RFU) that will transform the health care industry.
Registration in the new program announced in October 2020 exceeded expectations, demonstrating the need and demand for such an approach to health care training. The first HPP cohort ranges from first-year students to juniors. They represent a variety of undergraduate majors but share a passion for working in an industry focused on helping others. HPP will expand on that through interprofessional education, and modeling the collaborative care and practice that will define the future of health care.
The HPP students will receive early exposure to 40 health care career options in this program. Upon completion of campus coursework, each undergraduate will then complete multiple experiential health-related projects with interprofessional teams of RFU faculty and students. This valuable experience will help students develop a broad perspective on health issues that is both scientific and humanistic.
Students will enter a training track designed specifically to prepare them for a future career anywhere in the health professions, including allopathic medicine, podiatric medicine, pharmacy, biomedical science, physical therapy, physician assistant, pathologists' assistant, clinical psychology, and other RFU programs. They also can choose from a number of accelerated dual-degree programs—a master's in Physician Assistant Practice, a master's in Biomedical Sciences, a master's in Clinical Counseling, a Doctor of Pharmacy, a Doctor of Physical Therapy, and a Doctor of Podiatric Medicine.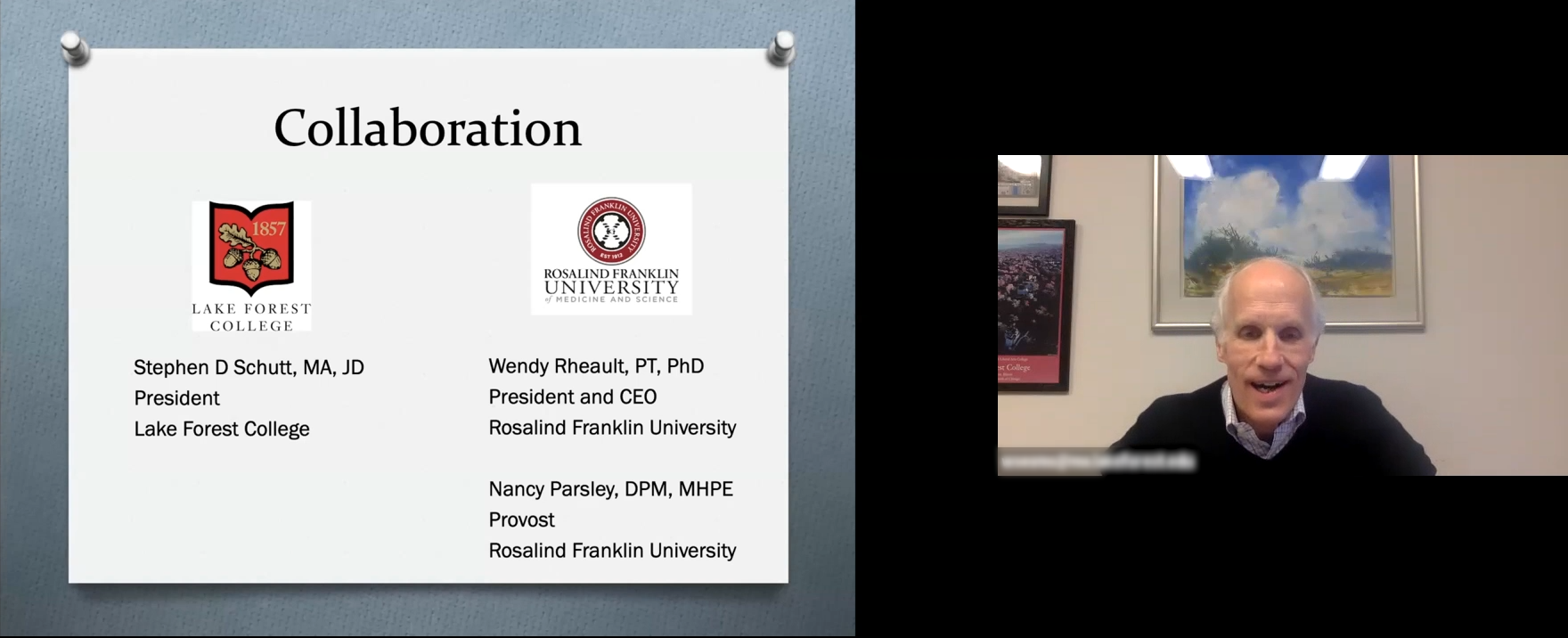 Lake Forest College President Stephen Schutt discusses the collaborative nature of the program.
"It's really important that students figure out early on in their education what all the choices or opportunities might be in health care so that they can pick something that is the best match for their skills and their interests," said Dr. Patrick Knott, an RFU professor who is teaching the HPP introductory class.
The HPP curriculum "takes the guesswork out of career preparation," said Dr. Shubhik DebBurman, Lake Forest College senior director for science partnerships.
"Our students get an early education in the wide breadth of health professions within their first year in college. By junior year, they learn about how to be effective health professionals by developing skillsets in collaborative interprofessionalism, and an empathetic mindset by understanding the patient community and culture and health outcome challenges ahead."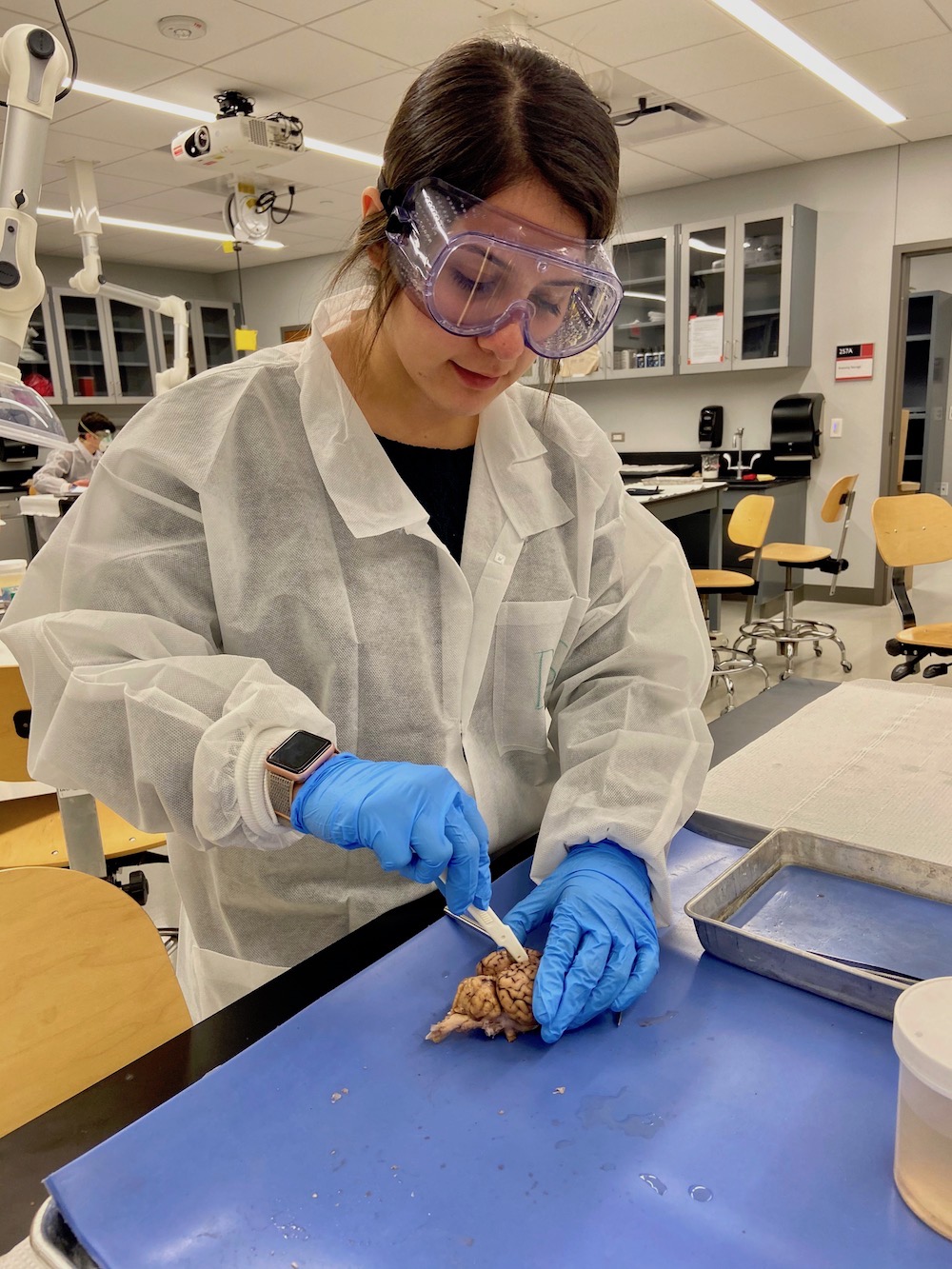 Daniela Sanchez '23 of Waukegan, Illinois enrolled in HPP to avoid a career misstep. "What I'm hoping to get out of this program is an overview of what the medical field offers, because I know it's not always just doctors and nurses," she said. "I've known I wanted to be in the health care field for a while, I'm just not certain where."
The HPP program is attracting significant attention in the health care industry and beyond. Horizon Therapeutics, an international company headquartered in Deerfield, donated $500,000 to set up a scholarship program for economically disadvantaged students and students of color who want to pursue a health care career. Lake Forest College and RFU are also working with numerous other foundations and area health and pharma companies interested in providing financial support for the HPP. In addition, the Illinois Science & Technology Coalition highlighted HPP for providing diversity, equity, and inclusion in STEM in its just-released 2020 Illinois Innovation Index.
Centered in Lake County, Illinois, the strategic partnership between the College and RFU will dramatically and positively impact health and wellness in the region. The U.S. Bureau of Labor Statistics expects health care jobs to grow 14 percent nationally through 2028, faster than the average for all other occupations.
Lake Forest College and Rosalind Franklin University are also exploring the creation of a joint nursing program, through RFU's planned College of Nursing. The dual-degree program would provide a direct pathway for Lake Forest students to earn both an undergraduate degree and a graduate-level nursing degree in just five years. RFU is working with Northwestern Medicine, the Lake County Health Department, and other industries in the region to understand the needs, develop an innovative curriculum, and ensure the program supports the entire community.
For more information on Lake Forest College/Rosalind Franklin University partnerships and initiatives, visit lakeforest.edu/hpp.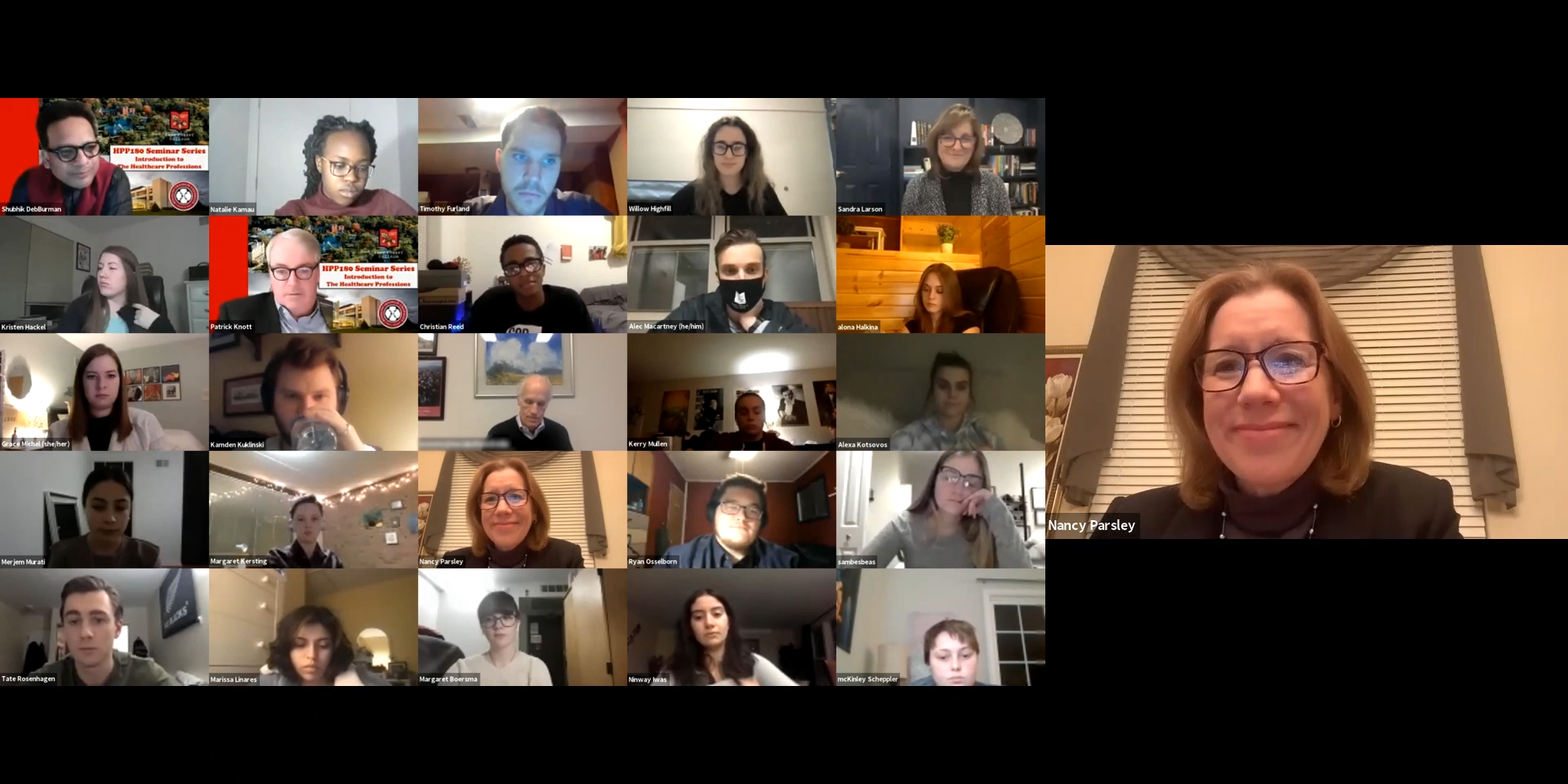 Rosalind Franklin University of Medicine and Science Provost and Associate Professor Dr. Nancy Parsley welcomes the new Health Professions Program students.
About Lake Forest College
Founded in 1857, Lake Forest College is a selective residential, national liberal arts institution located 30 miles north of downtown Chicago. The College has 1,550 students representing nearly every state and 85 countries. Lake Forest has a long tradition of academic excellence and is known for its innovative curriculum and focus on career preparation. For more information, visit lakeforest.edu.
About Rosalind Franklin University
Rosalind Franklin University of Medicine and Science is committed to serving humanity through the interprofessional education of health and biomedical professionals and the discovery of knowledge dedicated to improving wellness. Founded in Chicago in 1912, RFU embodies the spirit of inquiry and excellence modeled by its namesake Dr. Rosalind Franklin, whose Photo 51 was crucial to solving the structure of DNA. Recognized for its research in areas including neuroscience, brain-related diseases, inherited disorders, diabetes, obesity, and gait and balance, the university encompasses the Chicago Medical School, College of Health Professions, College of Pharmacy, School of Graduate and Postdoctoral Studies, and the Dr. William M. Scholl College of Podiatric Medicine. Learn more at rosalindfranklin.edu.
Contacts:
Lake Forest College:
Linda Blaser
News and Media Relations Manager
blaser@lakeforest.edu
Rosalind Franklin University:
Dan Moran
Communications Director
dan.moran@rosalindfranklin.edu