Lake Forest students' food waste solution secures first place at NIU Hackathon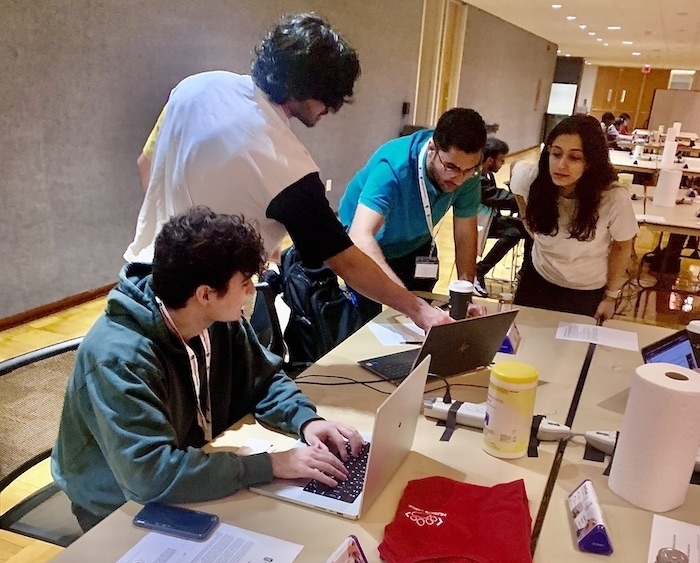 The Applied Data Center (ADC) sponsored two Lake Forest College student teams to attend the Huskie Hackathon at Northern Illinois University in DeKalb, IL. One of the teams received first prize in the food waste category for their innovative solution.
Ebrahem Abdelsamad '23, Chirag Aggarwal '24, KJ Alba '23, Bita Aslrousta '23 , Eric Kang '23, Yousif Saleh '22, Lubasi Sikwebele '24, and Harris Tanweer '24 represented Lake Forest College in two teams. The winning team of four consisted of Abdelsamad, Aggarwal, and Sikwebele helmed by team captain Aslrousta.
During the competition, students were tasked with coming up with an innovative idea that solved a food-related problem. Guided by mentors, the students came up with ideas and troubleshoot problems in order to create a workable solution. "The mentors helped us determine our audience and from there, we took breaks between planning before jumping back in, dissecting the pain points and problems in our plans," Aslrousta explained.
Aslrousta's team wanted to integrate computer science in their solution as they tackled the topic of food waste. The team came up with a web application targeting grocers who were looking to sell food on the cusp of expiring at a discounted rate. This would prevent them from tossing expired goods and allow them to make some profit. Consumers, on the other hand, would benefit from the discounted rates.
"Our idea works because it not only reduces food waste, but it also localizes food in the area so consumers don't need to go far to purchase food," Aslroustra explained.
The process of reaching their goal also included some trial and error.
"We had a lot of ideas that failed," Aslrousta said. "It was difficult to come up with something that served people of all socioeconomic classes to focus on equity and accessibility."
Projects were awarded points based on technical complexity, innovation of their approach to the problem, polish or quality of execution, and presentation of their pitch. Aslrousta's team won $1000 for their solution, which they will be splitting between the four of them.
"These competitions are a wonderful opportunity for students to solve a real-world problem creatively and collaboratively," Assistant Professor of Computer Science and Mathematics Sara Jamshidi said. "At the end of such competitions, students also learn seeing the solutions of other teams, which can be quite educational. It's also an effective way to connect with other students and professionals interested in computer science and data science in the region."
The competition also allowed participants to try new applications for computer science skills and learn more about entrepreneurship and innovation.
"I have considered pursuing an MBA after I graduate from Lake Forest, so this was a great opportunity to experience what it could be like to be close to business," Aslrousta said. "I didn't know or have any entrepreneurship skills, and this helped me see if this is a path I want to pursue."
Along with the new perspective comes a bolstered resume, which is appealing to both employers and graduate programs.
"Participation in such competitions is a great addition to one's resume or graduate school application, so participating is a guaranteed win all around," Jamshidi explained.
Lake Forest College's data science and computer science degree programs are rapidly growing and engaging students with a variety of interests. Jamshidi said that the ADC hopes to sponsor more teams to engage in such competitions in the future.

Related links