Lake Forest College to add men's and women's varsity lacrosse
Lake Forest College will add men's and women's lacrosse to its slate of varsity athletic programs in the 2021-22 academic year, Vice President for Career Advancement and Athletics Jackie Slaats announced Friday, October 25, 2019. 
The men's team has already been accepted into the Midwest Lacrosse Conference and the women's team into the Midwest Women's Lacrosse Conference. Both conferences include schools from Illinois, Wisconsin, Minnesota, Iowa, and Missouri.
"We are very excited to elevate lacrosse to varsity status," Slaats said. "Our club teams have been successful for years and we're confident they can quickly become highly competitive varsity programs in conference competition and at the NCAA Division III level. Other varsity teams at the College have achieved a combined 70 percent winning record over the past two years with seven representing Lake Forest in NCAA postseason play. Forester lacrosse will be the latest addition to our longstanding Tradition of Excellence."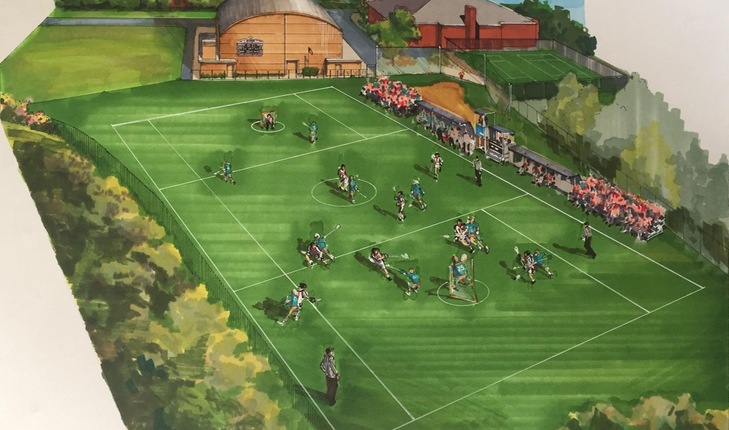 The new synthetic athletic field will be installed in summer 2020 behind the ice arena on South Campus.
Lake Forest Vice President for Enrollment Chris Ellertson added that "students across the nation are committed to lacrosse, and we look forward to adding it to the many other things students love about Lake Forest College." He commented, in addition, that "Lake Forest is a national liberal arts college that draws well from the east and west coasts—strong lacrosse areas—as well as our own Midwest. Lacrosse is a great fit for us."
Men's and women's lacrosse club teams have been extremely successful over the past several years at Lake Forest College. The College's club teams will continue competing in the Great Lakes Lacrosse League (men) and Women's Collegiate Lacrosse League through the 2020-21 academic year. The College also sponsored men's lacrosse as a varsity sport for 12 years before it was discontinued in 1994 due to the lack of collegiate competition in the area. Three lacrosse players have been inducted into the Lake Forest College Athletic Hall of Fame, including Lyle Shirley '88, who also played professionally for four years and won a national championship with the Detroit Turbos of the Major Indoor Lacrosse League.
Fundraising efforts for a new synthetic lacrosse field and locker rooms are actively underway, and the search for a full-time head coach for each varsity team will begin in the spring of 2020.
Founded in 1857, Lake Forest College is a selective residential, national liberal arts institution located 30 miles north of downtown Chicago. The College has 1,570 students representing nearly every state and more than 80 countries. Lake Forest is ranked in the top 100 liberal arts colleges by U.S. News & World Report and #45 for Best Value. In addition, The Princeton Review ranked the College #9 in the nation for Best Internships and #12 for Best Alumni Network.