J-Term offers additional opportunity for career-building internships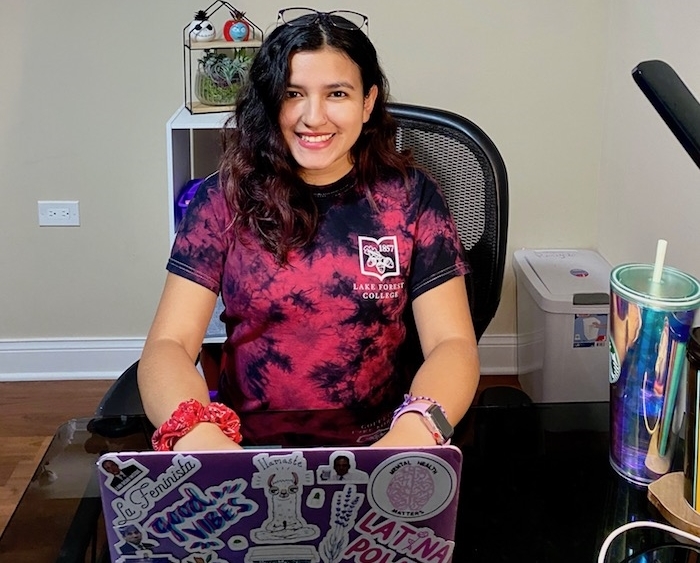 The January J-Term has made it possible for many students to complete a for-credit internship that is providing them with real-life work experiences and an opportunity to grow their professional network.
Just two weeks into her internship, Isabella Nuno '22 already left her mark on the Illinois Guardianship and Advocacy Commission (IGAC), where she is working full-time as a community relations and resources intern. One of Nuno's top assignments at her first-ever internship was to improve internal communications at the agency, which provides legal representation, investigates complaints of rights violations, and provides state guardianship for the individuals with disabilities.
"I produce a biweekly newsletter that is a good connector between employees so that they can get a better understanding of all the different areas of the agency," the communication and psychology double major said. In addition to producing content, Nuno created a template for the newsletter using a desktop publishing platform that is free for nonprofits. The project gave Nuno hands-on use of her digital design class training and will ensure the popular newsletter continues after her internship ends.
Nuno also interviewed employees for a new podcast series. A new area Nuno discovered is following legislation that affects the agency's client base. "I've had the opportunity to watch live sessions of the House and Senate voting on different bills and taking notes on the action," she said. "It's really interesting and I've learned a lot."
Finance major Matthew McCullough '21 transferred from University of Colorado, Colorado Springs to Lake Forest in his junior year to play soccer, study finance, and have access to the College's nationally recognized Career Advancement Center (CAC). "Within the first month of my first semester on campus, I went to the CAC to talk career strategy," he said. "We worked on ramping up my resume and talked about internships I could apply for that would give me a good idea of what it's like to work in the industry."
McCullough is working as an analyst intern for Brockhurst Capital Partners in Chicago. His projects have included researching potential acquisitions for the company, reviewing financial models, doing outreach with potential investors, completing due diligence, working on 100-day plans, and reviewing loan agreements. Besides the expected application of his finance coursework, McCullough finds his work as an analyst draws on his math acumen, Excel training, and—most surprising to him—the writing skills he honed at the College.
"My classes at Lake Forest College—not just my finance classes, but my writing classes, as well— definitely prepared me going into this internship. There's a fair amount of writing required as an analyst," he said. Looking ahead, McCullough plans to attend the CAC's Employer Showcase in the spring and will continue to grow the professional network he is building with the help of the CAC.
Following the advice of her career pathway counselor, Katie Whalen '21 applied for and landed a career-building internship in the Order of Protection Division at Ascend Justice, an agency that helps address the legal needs of individuals and families impacted by gender-based violence or the child welfare system. The organization is a perfect fit for the sociology and anthropology major and social justice minor who also volunteers six hours a week at the Northwest Center Against Sexual Assault.
"I'm learning a lot about the legal process," said Whalen, who hopes to get a job in the advocacy and non-profit sector after graduation and eventually study civil rights law. "I'm already writing affidavits and am getting valuable experience working with civil rights lawyers. Having the opportunity to interact with people in the field I hope to enter and gain firsthand knowledge of the tasks required of them has given me the ability to envision what my own career path might look like."
For Zahra Nadeem '22, working in Advocate Aurora Health's Transition Support Program (TSP)—a nationally recognized model for patient navigation health equity—has helped define her career path.
"I know the health-care setting is where I want to work and this experience has definitely helped me confirm I want to go in the direction of a career that involves patient interaction," she said. "I've always been a people person and I want that personal interaction in my work life in the future."
A neuroscience major and chemistry minor, Nadeem is part of the new Health Professions Program at the College. With a health care career as her career goal, she appreciates the experience she's receiving as an undergraduate working in patient caseload management. "I now understand how best to communicate with patients and what kind of questions to ask to help patients of marginalized identities or those who have no insurance navigate the health care system," she said.
Mervin Dino, Nadeem's internship preceptor at Advocate Aurora, is impressed with her readiness for the job. "Zahra brought the right amount of commitment, but also compassion" to this new model of care delivery in the US, he said. "Lake Forest College has helped Zahra to be successful in this internship by teaching her to ask the right questions, to be dedicated, to go above and beyond, and to be prepared. We've been impressed."
The J-Term internships "were made possible through collaboration with our fantastic employer partners and the Forester Network and created an opportunity to provide additional support for students during January," said Director for the Career Advancement Center Colleen Monks. "Through these immersive career experiences, students were given another chance before the start of spring semester to build their resumes, gain connections, and take steps toward their professional goals."