Inside Look: Working at The Art Institute of Chicago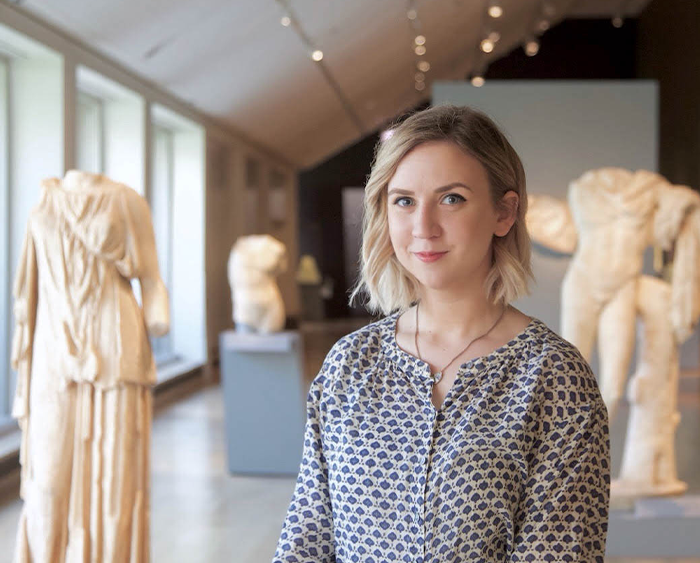 Elizabeth Mescher '15, assistant collection and inventory manager in the Department of Architecture and Design at The Art Institute of Chicago, visited campus to speak with students about provenance research and museum collection policies.
Besides offering insight into working at one of the oldest and largest art museums in the United States, Mescher also offered current students advice on her career path, during this event arranged by the Department of Art and Art History and Career Advancement Center.
"I went to Lake Forest College with the full intention of becoming an archaeologist and historian, having grown up reading Roman mythology and digging for treasures in my own backyard. But during my four years at Lake Forest, I was introduced to career paths in these fields that I never knew existed," Mescher told the crowd gathered in the Durand Art Institute on April 8.
"Elizabeth's fascinating glimpse into the world of object acquisition, provenance, and history offered wonderful insight into a less obvious but deeply significant aspect of museums," said Creative Arts and Communication Pathway Leader Danielle Kelly. "Students in a wide variety of majors benefitted from this behind-the-scenes look at museum research and the day to day experience of a collections manager."
A double major in art and art history and sociology and anthropology, Mescher went on to complete her master's in arts administration and policy at the School of The Art Institute of Chicago after graduating from Lake Forest.
Mescher credits the variety of experiences she had at Lake Forest with helping her get where she is today.
"During my junior year at Lake Forest, I studied abroad in London and Florence and saw how all of my interests in art, history, discovery, and mystery could come together in one career path," she said. "Being in front of artworks and places of cultural importance, as well as digging in areas in deteriorating conditions motivated me to want to protect cultural heritage and pursue a career in caring for art and artifacts."
Mescher said she was looking for something that combined her SOAN and art history studies.
"I found this amazing spot where they all met together so I could do what I care about most: protecting cultural heritage," she said. "The combination of intensive study and hands-on training that I received at Lake Forest College has been absolutely crucial to my career and has made me stand out in a competitive field."
— Story and photos by Alaia Singh '21