Four students present at international conference on cognition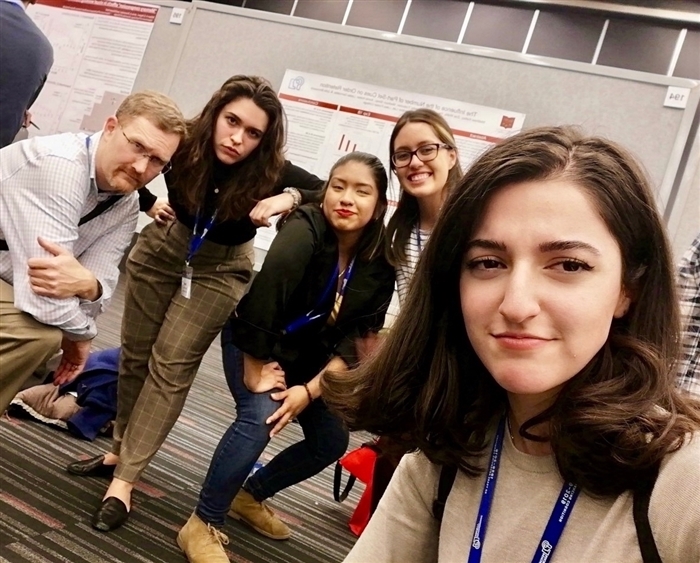 Four members of Professor of Psychology Matthew Kelley's research lab had the opportunity to present their findings at the international meeting of the Psychonomic Society in Montreal, Canada.
"Presenting at the conference, it was inspiring to be alongside influential researchers from all around the world," said Yesenia Uribe '21, one of the four researchers in attendance.
Uribe and co-presenters Leslie Gonzales '21, Annie Keller '20, and Estella Tcaturian '21 all traveled to Montreal to explain their research on the paradoxical effects of hints on memory at the conference that drew 2,400 cognitive psychologists and neuroscientists from more than 40 countries.
This fall, all four students were named 2019–20 Bartram Research Scholars, thanks to a generous gift to the College from Steve and Ann Bartram, of Lake Forest, to enhance undergraduate neuroscience education and research training.
"​Not many undergraduates get a chance to present at this conference," Kelley said. ​"They did so well that everyone assumed they were graduate students."
Gonzales says the kind of experience she and the other student-researchers received in Kelley's lab was one she would expect to receive in graduate school, not an undergraduate lab.
"Typically, the PI—the principal investigator—will have their plan, 'this is what you're going to do,' step-by-step," Gonzales said. In Kelley's lab, students "help develop the plan and then carry it out. Professor Kelley had the general idea, 'let's work with memory,' but we got to narrow it down from there, what specific things we wanted to test."
​Julia Bronswick '20, Maddie Strejc '20, and Zoe Walts '20 also made important contributions to this research. Over the years, 45 members of Kelley's lab have co-presented at national and international conferences.
The Psychonomic Society was founded nearly 60 years ago to foster the advancement of understanding in the study of cognition. Today, the Society has grown to include over 4,300 scientists.