Foresters meet President-Elect Jill Baren at on-campus reception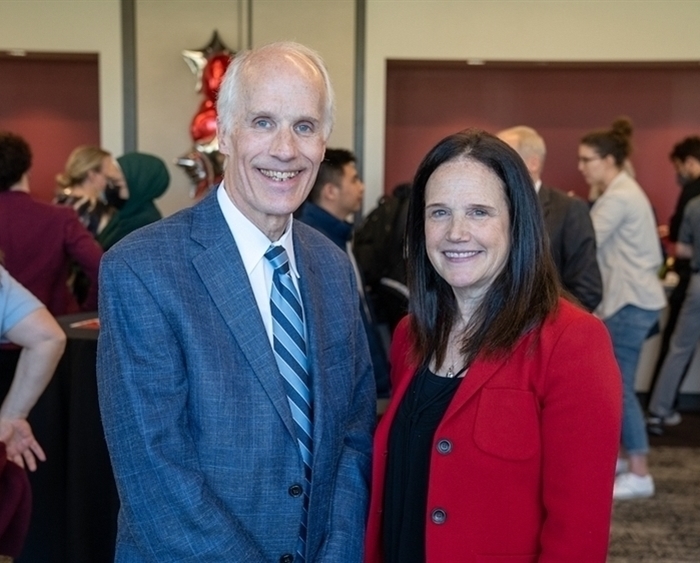 Nearly 100 students, faculty, staff, alumni, Board members, and friends of the College gathered in Brown Hall on the afternoon of April 21 to meet Dr. Jill M. Baren, President-Elect of Lake Forest College.
The reception was the first time President-Elect Baren visited campus since it was announced February 14 that she will succeed President Stephen Schutt, who will retire this summer after 21 years leading the College.
When Baren begins the role of fourteenth president on July 1, she will make history as the first woman president in the College's history.
With a backdrop of red and silver balloons, President Schutt welcomed the group of Foresters to the momentous occasion in the Tarble Room. "In two months, the College is going to start on a brand-new, exciting chapter for the future. The leader for that chapter, I'm so grateful to have with us today, is Jill Baren. It is so great to have you here," he said to loud applause.
William Lowry '84, Vice Chair of the Board and Chair of the Presidential Search Committee, spoke next and thanked President Schutt for his years of service to the College.
"Steve, for 21 years, we have been blessed by your passion, your professionalism, and your partnership, but most importantly we've been blessed by your person," Lowry said, at which the crowd erupted in lengthy applause.
Next Lowry turned to President-Elect Baren. "Visionary. Compassionate. Leader," he said. "Those were the first three words I noted while interviewing Dr. Jill M. Baren for the first time in my capacity as the Chair of the College's Search Committee. Jill will lead us with confidence, authenticity, and an entrepreneurial style."
When she spoke, Baren explained why the opportunity to become President of Lake Forest College resonated with her and why she felt drawn to the role.
"Lake Forest College values what I value and has so much to give—to the world, to higher education, and to humanity," she said. "I look forward to building on Steve's legacy and also to introducing new ideas, new thoughts, and change. We'll do that together."
Chairman of the Board David Gorter '80 spoke last, thanking the Search Committee for "six months of intense effort that went into finding Jill."
Wrapping up the reception, Gorter also congratulated President Schutt for "an extraordinary job of leadership for 21 years." Gorter then turned to President-Elect Baren and said: "Jill, I cannot wait to work with you and discover things we haven't even thought about. It is truly a unique time in our history."
The reception was the highight of Baren's two-day visit to Lake Forest, where she met with a number of Foresters and explored campus.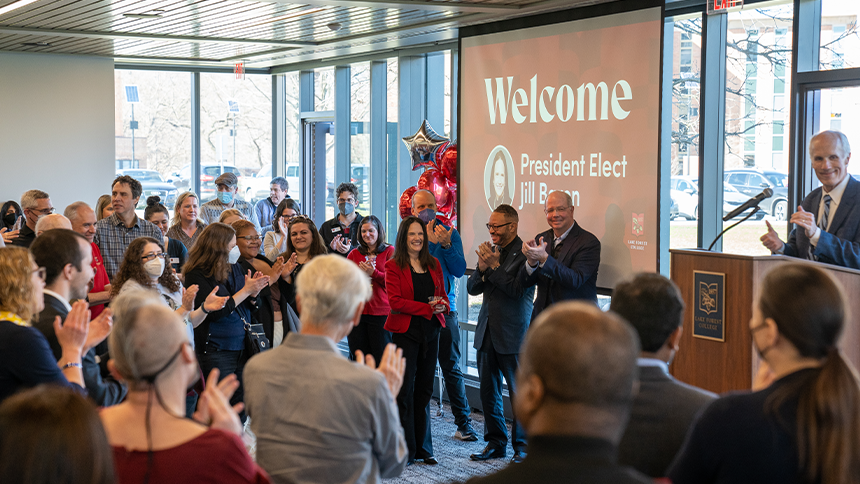 Related Links: