Explore career planning sessions at Career-A-Palooza!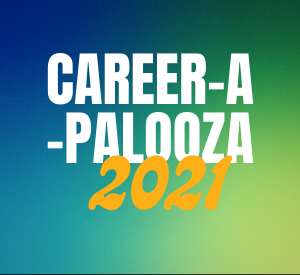 The week of March 15-19th, join us for virtual presentations and interactive sessions to assist you as you plan a rewarding career.
Alumni and other professionals will lead casual virtual sessions covering a variety of topics throughout the week that provide the opportunity to
ask questions
and
get real advice
you can use when searching for a job or internship, applying to graduate school, or figuring out what you want to do after graduation. Did we mention you can
win prizes
in the sessions you attend?
There will be a session for everyone across the Career Pathways, interests, and majors. Students, please register on Handshake for each session you would like to attend to view call-in information. You can find registration links and session descriptions below.
Win Prizes at Career-A-Palooza!
The Career Advancement Center is raffling off two $50 gift cards to a professional clothing retailer of your choice and a GRAND PRIZE of Apple AirPods OR Beats Solo Pro headphones. Winners will be announced at the end of the week!
To enter, attend a Career-A-Palooza session of interest to receive access to the raffle ticket form. Only one entry will be counted for attending sessions, but you can receive an additional entry by submitting a photo with your raffle ticket form.
Session Schedule
MONDAY, MARCH 15
7p.m. CT Opening Session: Activating Your Authentic Self: How to Win in Your Job Search and Launch Your Career:

Wondering how to bring your authentic self to the job or graduate school search process and what you should be looking for in a future employer? In this two part opening session, hear from

Angela Birts '08, Founder and CEO of Birts Equity and Inclusion Solutions, about how to bring your unique identity into your job search and what that has looked like for her, and

Megan Lambert '14, Diversity, Equity, and Inclusion Program Manager at Aon, about how to engage in conscious job-seeking and identify organizations that align with your vision, mission, values, and goals.

Register here.
TUESDAY, MARCH 16
6p.m. CT Meet the Professionals: A Law and Public Service Panel:

Learn about paths to careers that serve the community with a law and public service panel! Featuring

Chelsea McDonald '16, Legislative Aid at the U.S. Senate;

Susan DuMont '07, Associate Attorney at Miles & Stockbridge P.C.; and

Nyassa Kollie, Regional Recruiter at the U.S. Peace Corps.

Register here.
WEDNESDAY, MARCH 17
7p.m. CT

From Undecided to Unstoppable: Defining Your Unique Path to Career Success:

Hear from a panel of liberal arts graduates about how they moved forward from being "undecided" to unstoppable now in their careers, how they remained resilient throughout the process, and how their unique identities helped them to define their paths to career success! Featuring

Stephanie Valtierra '08 PhD, Assistant Director, CLIMB Program at Northwestern University;

Jordan Gipson '14,

Brand Partnerships at Spotify; and

Lisa Philippi, Vice President Of Talent Acquisition at Kaufman Hall.

Register here.
THURSDAY, MARCH 18
4:30p.m. CT Building Your Professional Brand: How to Create a Killer Digital Portfolio:

Whether you are interested in creative fields such as design, writing, video, digital content/marketing/branding, and user experience, or want to boost your digital profile with potential employers, a digital portfolio is a key part of your professional branding. Learn more about what to include in your digital portfolio, best practices regarding content and layout, how to align your resume and portfolio, and how to leverage your portfolio as a candidate. Featuring

Bridget Quinn White

from Creative Circle and

Ben Tanzer, Founder and Principal of HEFT Creative Strategies and Emmy-award winning coach, podcaster, writer, teacher, publicist and social worker.

Register here.
FRIDAY, MARCH 19
10a.m. CT How to Write a Liberal Arts and Sciences Personal Statement:

Writing a personal statement is beyond a presentation of yourself. The personal statement also needs to resonate with the context of the application and the stakeholders who will read it. This presentation will help guide students coming from STEM and non-STEM Liberal Arts majors, and a comparison between the two will be demonstrated in order to give students flexibility in their future job searches. Featuring Pauline Binder-Finnema PhD, Assistant Director of the Career Advancement Center.

Register here.
12p.m. CT Closing Q&A:

Join the Career Advancement Center to close out Career-A-Palooza! Examine key takeaways from the sessions earlier in the week and ask any additional questions you have about building your professional skills and preparing for job and internship applications. Featuring Ben Rohde, Associate Director of the Career Advancement Center.

Register here.