Diversity in practice: Earl Barnes '86 selected as Crain's Notable Executive of Color in Health Care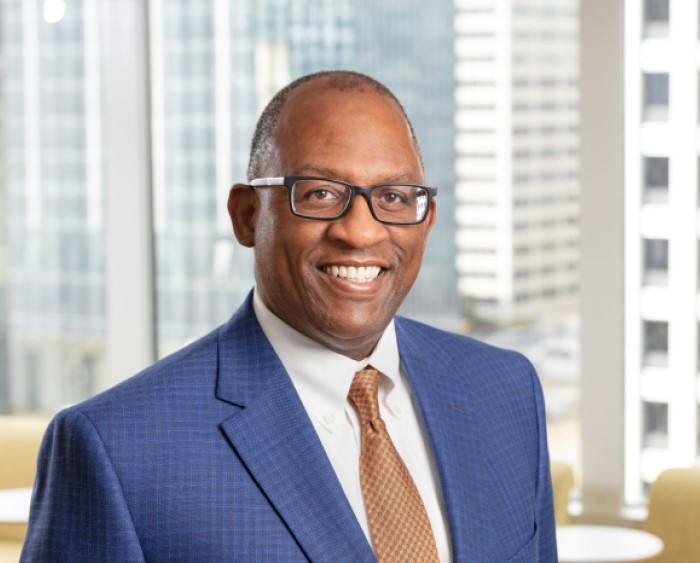 Earl Barnes '86 was recently recognized as a Crain's Chicago Business Notable Executives of Color in Health Care. Crain's selected 34 accomplished executives of color who have broken barriers as they rose to positions of influence in healthcare.
Barnes majored in history at Lake Forest College before continuing on to law school. He is currently the Executive Vice President and Chief Legal Officer at Amita Health. The Amita system announced its decision to split in October 2021, and Barnes helped navigate this restructuring. The recognition highlights his intentional efforts to promote diversity at Amita.
"The work we've done at Amita has been important, and I am proud of it," Barnes said. "In healthcare, we're there to treat and better the communities we serve, and those communities are diverse. The people serving diverse communities should represent that diversity. I think that it's critically important that we find ways for all individuals in society to have access to opportunities, including education, access to good jobs, and appropriate training."
Barnes has worked toward hiring more diverse lawyers to work in healthcare. "Diversity makes us stronger as a society, and I know it makes us stronger as an organization," Barnes said. "Every day, I continue to be appreciative of the work the College has done for me and the work the College continues to do for diversity and ensuring our graduates are good citizens. I have tried to emulate that as I have worked through my career."
Law school originally appealed to Barnes because of its potential to help him make an impact. "I decided to go to law school to help other people. I feel like I am part of a bigger organization that helps society," Barnes said.
The experience Barnes gained at Lake Forest College helped him take steps towards the achievements he has made: "There are so many lessons and teachings that I took from Lake Forest College that help me make an impact. I learned how to become a broad, independent thinker and become someone who knows how to get things done."
Barnes has been a member of the Board of Trustees since he was a student. "I loved my experience at the College, and I have stayed involved because of that," Barnes said. "The whole concept of a liberal arts education, having the opportunity to take a broad selection of courses, and meet a variety of people gave me the skills I needed to navigate within new environments. Those are skills I still carry with me."
Barnes continues to be actively involved in the Lake Forest College community: "I have watched the College continue to grow and mature, and I continue to be proud of all Lake Forest College has achieved."
When the announcement was made, Barnes was the Executive Vice President and Chief Legal Officer at Amita Health. He will join Sentara Healthcare as its new general counsel on June 2.