Modern Languages and Literatures
Michael Peters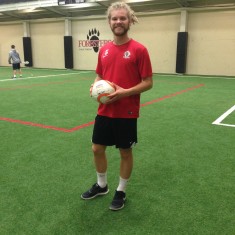 Class Year
2017
Area(s) of Study
Biology and French
Hometown
Schladming, Austria
High School
Black Forest Academy in Kandern, Germany
Co-curricular
Men's Soccer Team
Beta Beta Beta
Alpha Phi Omega
Sports Photography
Internships
Northshore Health Center
Lake Forest Acute Care
Achievements
Senior 25
Dean's List
Midwest Conference All-Academic Athlete
Off-Campus Study
Dakar, Senegal
Graduate Study
Rush University – Masters of Science in Nursing (MSN), Clinical Nurse Leader (CNL)
Michael Peters came to Lake Forest from Germany and has a deep passion for soccer. His favorite place to hang out when he's not in class is the indoor soccer turf in the Sports and Recreation Center. Michael studies biology and French and wants to work in the healthcare field after graduation. He plans to pursue a master in public health (MPH) as well as a master's of science in nursing (MSN).
Here's his top reasons why he chose to come to Lake Forest College:
1. Great Academics
2. Could play a varsity sport (soccer)
3. Proximity to Chicago - love the city
4. Nice campus - spend a lot of time outdoors
5. Great financial aid package and scholarships
He's happy that he decided to attend the College because he's made great connections that will stay with him for the rest of life. And he likes that his advisors invite him over for dinner all the time. 
How did you choose your area of study?
I want to go into public health because it combines the sciences, which I really enjoy with a multicultural aspect that is close to my heart. I would like to work in francophone Africa someday, and so the combination of my two majors is preparing me for that.
What did you think of the faculty?
The faculty are intelligent, challenging, and caring. They have taken the time to get to know me and help me everyday to work towards my goals.
What was your favorite class?
African American Literature II with Dr. Judy Dozier
What's the best thing about Lake Forest College?
The diverse student body – there are so many people from all over the country and all over the world that I learn from on a daily basis. We all have different backgrounds and upbringings, and I learn so much from my friends and peers.
More information to share?
I love taking advantage of the city of Chicago. I often catch the train and go out to fun restaurants, concerts, and cultural festivals.
I never thought that I would go to a small school like Lake Forest College, but I am definitely glad that I chose to come here. It exceeded my expectations, and the relationships that I have built are irreplaceable.